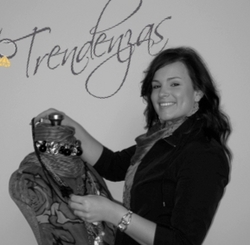 "When you can't find a job you love, make one. My passion is brand management and fashion; when the right opportunity did not come along, I was determined to make my own – I like to think of myself as a Recessionista " - C. Caldwell (President)
Chicago, IL (PRWEB) October 26, 2010
After hearing one too many "No's". In an economy that has left little room for eager new hires looking to climb the corporate ladder one strong-willed business women decided to build her own ladder.
Trendenzas inc. seeks to prove itself in the fashion accessories industry and will have the first opportunity November 1st. The 6am (CST) launch of its first "Trend of the Day" proves to be an ambitious one.
Trendenzas inc. (http://www.Trendenzas.com) is structured as an online deal of the day website similar to that of Groupon ®, but focuses on products rather then services. Patrons go to the site for a featured item of the day with the option to purchase at deep discounts. Offering only limited quantities the catch is to check often and check early or receive an email reminder in your inbox. Trends range from jewelry and purses to scarves and wallets. Seeing Gilt Group ® and RuLaLa® as main competitors Trendenzas is confident its pricing, its no monthly obligation and its featured items will set them apart from the pack. – The trend is here to stay, but the deal is gone at the end of the day!
"When you can't find a job you love, make one. My passion is brand management and fashion; when the right opportunity did not come along, I was determined to make my own – I like to think of myself as a Recessionista " boast the proud owner of Trendenzas inc.
A Miami University Farmer School of Business graduate and from a family full of entrepreneurs, president is a roll Cassandra feels equipped to fill. " I'm not saying I won't have bumps along the way, because I will; but my passion, desire and drive far out weigh any road blocks I could encounter" … Plus it certainly can't hurt that she has her mother by her side as trusted employee and partner in conquering the fashion world.
Trendenzas has given Cassandra the freedom to put her touch on everything from the logo and packaging to the language on the website. When sending the URL to a good friend as a website she 'just found on the web' you can imagine the shock when asked "Is this yours? ….Cass I lived with your for 4 years (in college), this has your name written all over it " (C. Bishop). That is when she knew she has created something that was truly her vision. " I hope I can inspire other young women like me to have dreams and believe in them; that is the only way to make them a reality"
Always be ahead of the trend, http://www.Trendenzas.com!
###