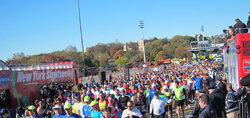 We at SmartSource are proud to continue our twelve year involvement in providing critical leading-edge information technologies, audio visual equipment and logistical services for this premier event.
New York, NY (PRWEB) November 13, 2010
SmartSource Computer & Audio Visual Rentals (Hauppauge, NY), one of the nation's leading Event Technology and Services, again worked its technical and logistical
magic behind the scenes at the recent ING New York City Marathon. The event, which took place on Sunday, November 7th, in brisk autumn weather, featured the largest field in marathon history with 44,829 runners. SmartSource provided all of the Audio Visual (AV) equipment and information technology (IT) equipment (computers, printers, copiers) and related support services for the entire 26.2 mile course traversing neighborhoods in all five New York City boroughs and five bridges. The event, organized by the New York Road Runners, was a master feat of planning, coordination and execution.
SmartSource President and CEO Mike McClernon commented that, "The New York City Marathon is one of the world's premier running events, uniting elite runners from across the world. We at SmartSource are proud to continue our twelve year involvement in providing critical leading-edge information technologies, audio visual equipment and logistical services for an event that captures the attention, not just of the running community, but all who value athleticism and competitiveness at the highest level. We are very pleased to be associated with both the Road Runners and all the athletes who displayed such a determination to succeed."
SmartSource's project management for the ING New York Marathon was divided between two teams. Overseeing the AV portion was Senior Account Manager Mary Cesar joined by Project Managers Bruce Cuiskelly, who was responsible for the Tavern on the Green tents and Scott Jackson, who oversaw the equipment set-up and crew for the Runner Corrals in Fort Wadsworth. Mary also project managed the sound on the Verrazano Bridge. This year's event represented the 12th marathon in which Mary played a major role. New York Road Runner's Senior Vice President, Event Development & Production and Technical Director of the ING New York City Marathon, Peter Ciaccia, has long relied on Mary and the team from SmartSource to meet the event's vital sound, lighting, staging and video requirements.
"SmartSource has been a partner with New York Road Runners for more than a decade," says Ciaccia, "and because of their high level of professionalism has provided us with a level of comfort and reliability that we have become accustomed to throughout the various stages of our production."
Charged with implementing the IT components of the project was National Account Executive Ken Edwards joined by Project Manager Daniel Roden, also both long-term veterans in SmartSource's IT support of past New York City Marathons.
Edwards explained, "Drawing on our past knowledge and experience managing previous New York City Marathons and other large events, we developed a plan which encompassed applying the best technologies for the various communications, data management and race operations tasks involved. Working closely with the Marathon's technical and event planning team, we implemented a plan which provided technology for all ING New York City Marathon locations, from the start line to the finish line…from the Javits Center and media center to Tavern on the Green. We provided laptops, copiers, large flat screens, kiosks and large monitors for the runners to register for messages." The event was also the first year where social media and Twitter had a major role in keeping information about the race flowing. Runners tweeted to #nytrun.
The AV portion of the event was an especially complex undertaking. It involved setting up multiple sound stages, and custom-built entertainment stages with sound systems for live music along the marathon route. The quality sound systems broadcast to the tens of thousands of runners, the crowds lining the course, as well as the millions of people watching the race coverage on broadcast and Internet media. The AV equipment included a complex and expansive array of sound systems, hydraulic stages, monitor rigs and backlines.
One particularly challenging aspect of the project involved the multiple changeovers that occurred within one venue alone – the Tavern on the Green. According to Project Manager Bruce Cuiskelly, "We set up our equipment in a large (82' x 162') pavilion tent at Tavern on the Green, which served not only as the finish line setting, but also the venue for various events leading up to, during and after the marathon. It started with Media Week (November 2nd-5th) press conferences and led to a reception for members of the New York Road Runners, and Saturday's pre-race Marathon Pasta Party for the runners, to the actual Race Day Broadcasts in which we had to accommodate both national and world broadcast feeds, Merchandising Sales on race day, and the post-event Volunteer Party on the Monday following the marathon. We assembled a large crew and moved swiftly, setting up equipment, dismantling it and then implementing new set-ups, in the midst of tens of thousands of people and street closures, which required extensive logistical coordination."
Cuiskelly described the equipment used in the pavilion tent. It included: four trusses with 48 lights, 18 LED light cans for up-lighting, a line array sound system of 12 speaker boxes, four projectors and two 10-1/2' x 14' screens, and a total of 18 plasma television sets placed around the tent's perimeter, lounge area and courtyards.
Senior Account Manager Mary Cesar continued, "Project Manager Bruce Cuiskelly did a fantastic job of managing the logistics and crew for the nine days of various events throughout race week. In addition to the main tent which seated 1,000, there were six tents in the Tavern Gardens each outfitted with plasma televisions, sound and lighting."
As for the sound set-up through the Ft. Wadsworth Corrals, Project Manager Scott Jackson, who is a SmartSource Branch Technical Service Manager, led a crew of 20 technicians, coordinating with Operations Manager Rob Fuller who managed the vehicles and staffing for all areas of the Marathon including all logistics for crew call times and equipment deliveries.
"Scott did an outstanding job leading his crew and setting up 22 separate sound systems in Ft. Wadsworth which were used to instruct the runners to their color-coded corrals as they lined up for their wave start," added Cesar. There was also a rhythm and blues start main stage set-up which included a Hydraulic S1250 rigged JBL Vertec Line Array.
A new component in Ft. Wadsworth was SmartSource's provision of sound systems for the NBC Broadcast Feed to three large LED screens in Ft. Wadsworth, as well as sound systems outside of the Fort on School Road and in the Verrazano Toll Plaza as runners departed buses. Assisted by the Verrazano Narrows Bridge crew and their bucket trucks, SmartSource rigged 1,000 feet of sound up the Verrazano in driving, freezing rain on the Thursday preceding the race. On the morning of the race, a build out of a large sound system in the bridge toll plaza took place. Smart Source's Audio Engineers provided microphone set-up for the various presenters, anthem singers, and the Howitzer Cannon – the "starting gun" for the three wave starts.
Also provided by SmartSource were: 13 custom-built sound stages for various bands situated throughout Brooklyn, Queens, Bronx, Harlem and Central Park, and a covered hydraulic stage with lighting and Meyer Sound at the finish line. The stage was also used Saturday night for musical performances by "The Nerds" and Sunday race day musical performances and finish line announcements.
"Our Lead Video Engineer Ryan Garfman did an outstanding job of video switching and projection during race week and race weekend," added Cesar.
Applying its marathon experience, IT and AV know-how and teamwork, SmartSource was instrumental in helping promote another successful New York Marathon.
About SmartSource Computer & Audio Visual Rentals
Founded in 1984 and formerly known as Rent-a-PC, Inc., SmartSource Computer & Audio Visual Rentals serves broad-based corporate IT, association, professional AV and trade show technology rental needs. The company is widely recognized for its outstanding customer service, technical expertise, geographic reach, breadth of product, and end-to-end solution. Its extensive line features brand name products from Apple, Dell, HP/Compaq, IBM, NEC, Eiki, Meyer, Stumpfl, and others. Among its products are computers, servers, copiers, professional AV equipment, LCD and plasma monitors, kiosks, digital signage and video walls. SmartSource employs over 250 including over 100 field technicians. Its 24 strategic locations are in: Anaheim, CA; Atlanta, GA; Boston, MA; Chicago, IL; College Station, TX; Dallas, TX; Englewood Cliffs, NJ; Eugene, OR; Ft. Lauderdale, FL; Houston, TX; Las Vegas, NV; Long Island, NY; Los Angeles, CA; New Orleans, LA; New York, NY; Orlando, FL; Philadelphia, PA; Phoenix, AZ; San Diego, CA; San Francisco, CA; Seattle, WA; St. Louis, MO; Sunnyside, NY; and Washington, DC. Kirtland Capital Partners, a private equity firm in Cleveland, Ohio, holds a majority interest in SmartSource Rentals. For more information, visit: http://www.smartsourcerentals.com or call: (800) 888-8686.
###