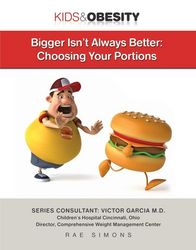 According to experts, recent estimates suggest that 30 to 50 percent of children born in 2000 will develop type 2 diabetes mellitus, a leading cause of preventable blindness; kidney failure; heart disease; stroke; and amputations
Philadelphia, Pa. (Vocus) June 5, 2010
Mason Crest Publishers announces the Kids & Obesity series of educational books for children ages 6-11. Stunning childhood obesity statistics show that kids are the fastest growing segment of the obese population in the United States. This 10 book series, which will be available fall 2010, will provide teachers and other education professionals with ammunition in the fight against obesity in childhood. Each book presents a different facet of this issue including healthy eating choices and emotional and self-esteem issues. Topics are presented sympathetically and clearly for young readers, explaining the reasons, the risks, and ways to fight back against the obesity epidemic.
"According to experts, recent estimates suggest that 30 to 50 percent of children born in 2000 will develop type 2 diabetes mellitus, a leading cause of preventable blindness; kidney failure; heart disease; stroke; and amputations," said Louis Cohen, Principal at Mason Crest Publishers. "This series is an excellent first step in battling the obesity epidemic by educating young children about the risks, the realities, and what they can do to build healthy lifestyles right now."
In the United States, 6.5 percent of all children ages 6 to 11 were obese in 1980, but that percentage has skyrocketed to nearly 20 percent of children in this age range today. Mason Crest published a series of books on this topic in 2006 geared toward students 12 years and older. The epidemic has grown significantly since the first series and demand to recreate the series for younger children, to try and curb the problem before it starts, dictated the younger edition.
The previous series Obesity – Modern Day Epidemic received rave reviews from well-respected industry publications such as Library Media Connection and VOYA.
"Well-written, easy-to-understand, timely, information-packed. . .holds interest all the while surprising readers . . . an impressive series for young and old alike. Highly recommended."
—Library Media Connection
Childhood obesity has both immediate and long-term health risks. Obese children face an increased risk of poor health not only in childhood but also in adulthood. Depression, diabetes, asthma, gallstones, orthopedic diseases, and other obesity-related conditions are all on the rise in children. In addition, overweight kids many times have low self-esteem, which down the road can affect employment and attainment of higher education.
"Obesity is the most pressing nutritional disorder among young people today," said Cohen. "We believe the only way to combat this deadly epidemic is through educational materials that promote healthy lifestyle changes. Our series of books brings the topic to the level of young children in hopes of educating them before it's too late."
The titles in the Kids & Obesity series are:
1. Bigger Isn't Always Better: Choosing Your Portions
2. Cookies or Carrots? You Are What You Eat
3. Weighted Down: When Being Overweight makes You Sick
4. Getting Stronger, Getting Fit: The Importance of Exercise
5. The Truth About Diets: What's Right for You?
6. Tired of Being Teased: Obesity and Others
7. Does Television Make You Fat? Lifestyle and Obesity
8. Too Many Sunday Dinners: Family and Diet
9. Eat When I'm Sad: Food and Feelings
10. At Home in Your Body: Clothes and Care for the Shape You're In
For more information on the series and Mason Crest Publishers, call 866-MCP-BOOK or visit http://www.Masoncrest.com.
About Mason Crest Publishers: Mason Crest evolved in 2002 from some of the key people responsible for making Chelsea House Publishers one of the leading young adult and reference school and library publishers. Mason Crest is dedicated to providing the most unique upper elementary and young adult quality books available within the school and library marketplace. With each series Mason Crest obtains the most proficient & knowledgeable editors, advisors, senior consultants, major institutions, authors, agencies, and specialized "think tanks" to ensure the books meet the highest standards of excellence. Mason Crest is currently offering over 1,500 titles that reflect the company's dedication to quality. A complete list can be found online at http://www.masoncrest.com.
###