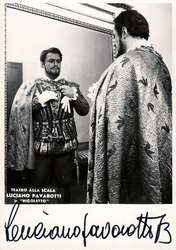 If a collector or auctioneer can't prove authenticity, that's a deal-breaker.
New York (PRWEB) April 1, 2010
Until recently, trying to find on-line, available artifacts of the finest and most famous opera, classical music and ballet artists was a fool's errand for most fans. Not any more.
Nestor Masckauchan, owner of Tamino - Opera, Classical Music & Ballet Memorabilia, himself an aficionado of superior art forms, recently re-launched his company website OperaCollectors.com after making it more user-friendly and reflective of the firm's "real-time" offerings.
Nestor began collecting recordings decades ago. Seven years ago he started amassing autographs, some of them obtained in person, others by purchasing from reputable collectors and auctions.
A stickler for authenticity, Nestor explains, "If a collector or auctioneer can't prove authenticity, that's a deal-breaker." Given his own long experience as a collector, when asked how confident he is that can he separate the wheat from the chaff, he nods knowingly, "I know both autographs and dealers very well."
Tamino offerings include autographs and programs from Maria Callas' most-famous appearances and the autographs from composers and pianists. And because the website is offered in real-time, seekers don't have to order and then sweat bullets as they wait to find out if the item has already been sold to another, as can often happen on infrequently-updated sites.
The Tamino website features a dedicated, secure shopping cart and the company provides certificates of authenticity. The company accepts consignments, sells rare vintage programs and other related artifacts. Nestor plans to expand the website soon, making it a portal for opera and classical music fans to buy recordings and gifts related to performing arts.
Nestor Masckauchan is the owner of OperaCollectors.com, fulfilling the hopes and dreams of autograph and program seekers worldwide. For more information, contact Nestor at (212) 543-4787 or email him at info(at)operacollectors(dot)com.
###