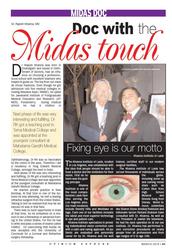 People of Indian Origin and Non Resident Indians worldwide
Beverly Hills, CA (Vocus) March 11, 2010
As you may know the Opinion Express is a highly respected monthly magazine that has gained esteem from various parts of the world. The Opinion Express reports on the latest world news with an emphasis on US, Indian and Middle Eastern news.
The publication has a large presence in the Middle East and as the Editor and Chief Prashant Tewari explains, we make ourselves accessible to "People of Indian Origin and Non Resident Indians worldwide". The issues cover important global topics as well as interesting stories in today's fast paced world. In the past they have included feature articles on American President Barrack Obama, Indian politician Jyotirindra Basu and Pop culture phenomenon Michael Jackson. The newest issue features Dr. Rajesh Khanna; one of America's top Ophthalmologist. Dr. Khanna is a US citizen of Indian origin. He is a cornea trained Eye MD from the University of Cincinnati.
He is now CEO of the lKhanna Institute of LASIK and Refractive Surgery. Dr. Khanna has received a mass amount of success and continues to work hard and help patients all over the world experience life with impeccable vision. The Khanna institute is continuing to stride by working with celebrities and athletes, receiving press and most importantly getting acknowledgment from other physicians and the greater public. The Khanna institute is honored to be featured in The Opinion Express a publication known for its distinct accuracy and interest in the medical field. Dr. Khanna's ultimate goal is to help those with vision impairments regain sight and enjoy the multitude of colors the world has to offer.
Dr. Rajesh Khanna, , is a Refractive Cataract surgeon in Los Angeles. He is the founder and medical director of The Khanna Institute of Lasik and Refractive Surgery. Dr. Khanna is one the pioneers of Lasik eye surgery and is currently at the forefront for advanced eye procedures. He is an experienced and skilled Wave front LASIK, PRELEX and cataract surgeon, today he has preformed over thousands of eye procedures on patients all over southern California Dr. Khanna has performed vision enhancements on many celebrities and athletes alike, those we are able disclose include; actor Corbin Blue from High School Musical, Disney channel star Brenda Song and Bas Rutten MMA and UFC champion fighter.
Contact: Kelly Schneider Rajesh Khanna, MD Khanna Institute of Lasik Surgery 240 S La Cienga Blvd Beverly Hills 90211 Phone: 805-230-2126 Fax: 805-230-2199 http://www.khannainstitute.com
###