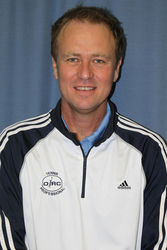 there are no short cuts to success.
(Vocus) June 29, 2010
ATP Tour tennis professional and tour coach, Gary Muller, 45, joined the Ontario Racquet Club as Tennis Director earlier this year, bringing with him a wealth of international playing and coaching experience as well as an unmistakably contagious enthusiasm for the game. Gary is setting out to make a significant contribution to the tennis program at the ORC and believes he can make a real difference to the sport of tennis in Canada.
During a professional playing career that spanned twelve years, Gary chalked up impressive wins over Agassi, Courier, Chang and Edberg, amongst others. Retiring in 1997, he reached a career high world ranking of 49 in singles and 7 in doubles.
Although Gary achieved what he modestly describes as "some success" on the Tour, he believes he is a much better coach than player:
"Growing up in South Africa, I didn't have a strong enough foundation in tennis. I played team sports initially, and only started tennis later. I was too emotional, and didn't have enough discipline to really succeed in the game. As a coach, I realize the importance of discipline and focus. It's so important that players learn to enjoy the battle of training and the fun of competition from a young age—a good coach will make sure this is part of the lesson plan."
During his eight years as an ATP Tour coach, Gary helped his players get some impressive results. Under his tutelage, Swedish player Jonas Bjorkman won six Slam doubles titles, an impressive number of tour doubles titles and three singles titles. Muller also helped world class players Stefan Koubek (Austria) and Sargis Sargsian (Armenia) reach career high world rankings of top 20 and top 40 respectively. He has also worked with 2002 Australian Open winner Thomas Johansson of Sweden.
A serve specialist, Gary's practical coaching experience also includes four years with high performance boys and girls at a private Academy in Vienna, Austria as well as training promising young players in South Africa. He believes in personally putting in a lot of on-court hours, and is convinced that this is key to truly making a difference. Gary was also on the ATP Board of Directors as a Player Representative from 2002 to 2004.
Muller's return to Tennis
Having taken a few years' break from the game, in 2009 Muller was invited by Jonas Bjorkman to rekindle their player/coach relationship for the three-time Doubles Winner's final shot at The Championships, Wimbledon. Although Bjorkman's dream of winning a fourth Wimbledon title did not come true (he and partner Zimbabwean Kevin Ullyett narrowly lost a tough finals match), Gary realized that a return to the game was in the cards. Quite simply, tennis was not completely out of his system. However, with a large family (four kids under the age of seven), returning to the Tour full time was not an option for this hands-on father; he would have to find another avenue back to the sport he loves. That opportunity came knocking when he was offered a position at the prestigious Ontario Racquet Club.
Gary's skills, experience and professional track record make him a hot commodity in this country—something that ORC management must have recognized when they offered him the job of Tennis Director. And from Gary's side, his new position at the ORC offers the chance to truly make a difference in the sport. It also provided the opportunity to bring his family to Canada—something his Canadian wife, Kristin, was more than happy about.
At the ORC
Gary's role at the ORC is Tennis Director which includes overseeing all 200 young players enrolled in the High Performance Academy—the biggest of its kind in the country. Since his arrival he has implemented significant modifications within the Academy structure including introducing morning on-court training sessions, extending playing and practice time, evaluating the fitness program and working with coaches to develop a more cohesive approach. Gary firmly believes that more hours on court combined with a greater on-court intensity level will help lead to better players. This is all because, according to Muller, "there are no short cuts to success."
Gary is credited with introducing Adult Academies to the ORC offering. These drill focused, high intensity and high volume programs are offered to adults of all playing levels, and, according to Gary, "the adults have really taken to the program. It's a great work out and they are able to see a lot of improvement in their game."
Muller is also working closely with Tennis Canada on a number of development initiatives, and believes that "through Tennis Canada's Progressive Tennis and good coaching, Canada will produce future champions." On May 30th Gary and the ORC, in a collaborative partnership with Tennis Canada, the City of Mississauga, the Peel School Board, Canadian Tire and local community clubs, launched the pilot community tennis program "Mississauga Little Aces" . The progressive tennis day, for kids aged four to ten years, provided kids the opportunity to try tennis on one of the unique 24 mini tennis courts (smaller courts, shorter racquets, softer balls) in the parking lot of ORC and Canadian Tire. "It's Gary's experience, energy, skill, and drive that will ultimately help Canadian tennis grow and prosper," says Hatem McDadi, the Vice President of Tennis Development at Tennis Canada, "and ORC is recognized as one of Canada's leading tennis clubs and health centres—this coupled with Gary's world class coaching skill and experience will provide a winning combination for many years to come. We are thrilled to have him here in Mississauga and Canada."
With only a few months into his new role, Gary's presence at the Ontario Racquet Club is palpable. According to General Manager Jeff McCarrol, "Gary's energy around the ORC is unmistakable. Here is someone who can really make a difference to players of all ages, levels, and abilities. Over the past few months he has inspired our players and coaching team to reach higher and work harder. We are very proud and fortunate to have Gary on the ORC team."
The Ontario Racquet Club is Canada's leading family health, wellness and fitness centre.
ORC members can book private lessons with Gary by contacting by contacting the ORC on 905 822 5240.
For membership and other enquiries please contact 905 822 5240 ext 228.
For further information on tennis and tennis programs at the Ontario Racquet Club OR Tennis Canada's Progressive Tennis programme, please contact: Gary Muller on 905 822 5240 (ext 245).
###