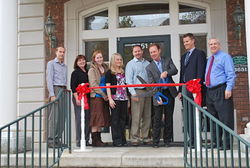 This is a difficult industry to be in
Provo, UT (Vocus) November 25, 2010
Paragon Wealth Management, a registered investment advisor firm, is thankful to have been in business for 24 years.
"This is a difficult industry to be in," said David Young, Paragon's President and founder. "We are happy to be a successful business this long."
Paragon's team celebrated their anniversary this month at their office in Provo with members of the community. The Provo/Orem Chamber of Commerce hosted a ribbon cutting that day to celebrate Paragon's anniversary and the launch of their new website that will go live on Monday, November 29.
Paragon's financial advisors introduced chamber members to their new website. Paragon's new site includes new educational videos on Paragon TV, an investment risk tolerance survey, articles about building wealth, tips on selecting a financial advisor, and much more.
"We hope our new site can be a resource for investors," said Young. "We plan to add new videos and articles weekly to help investors make informed decisions."
Young founded Paragon in 1986 to give investors an opportunity to do more with their money. Paragon has continued to grow and expand over the past 24 years despite the challenging markets and economy.
Paragon is known for its growth portfolio called Top Flight. It has generated a total return of 375.02% versus 52.43% for the S&P 500 from its inception on January 1, 1998 through October 31, 2010. Its compound annual return is 13.0% versus 3.4% for the S&P 500. (Visit http://www.paragonwealth.com to see complete track record and full disclosures).
About Paragon Wealth Management
Paragon Wealth Management is a wealth management firm that actively manages all types of traditional and retirement accounts such as IRA and 401(K) rollovers, and pensions and trusts. Paragon is a registered investment advisor and has fiduciary responsibility. Paragon received the Best of State Award in Financial Services in 2008, was listed on Wealth Manager Magazine's Top Wealth Managers List in the U.S. in 2008, received the Small Business of the Year Award in 2008, and was listed on WealthManagerWeb's Top Wealth Manager's list in 2010. Call 800-748-4451 for more information.
Paragon cannot guarantee the accuracy of information from other sources. Opinions are as of the dates indicated only. This report is not a solicitation for any security. Past performance is not a guarantee of future results. Investment performance reflects time and size-weighted geometric composite returns of actual client accounts. Investment returns are net of all fees and costs. The S&P Index is a diversified, size weighted index of 500 stocks.
###