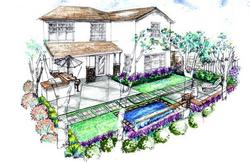 Calimesa, CA (Vocus) April 2, 2010
Homeowners are gearing up this spring for a season of outdoor entertaining, and are now looking for ways to update their backyards. ConcreteNetwork.com is offering four free, professionally designed patio sketches to help homeowners determine patio placement and get design ideas and tips for their next project.
Created by award-winning designer, Scott Cohen, these patio designs feature four unique possibilities that can be incorporated into any backyard space, big or small. Sketches offer ideas for creating spaces that invite guests into other areas of the yard, spaces with multiple rooms that tie together, ideas on incorporating outdoor kitchens and lastly, how to create a secluded outdoor area.
Whether updating a pre-existing patio layout or starting from scratch, incorporating a concrete patio with other landscape design elements is a great way to fully enjoy a backyard space. Concrete allows homeowners to create functional, durable and most importantly, appealing hardscapes that incorporate customizable colors and designs through decorative applications.
Get more patio designs, photos and information at ConcreteNetwork.com.
Established in 1999, The Concrete Network's purpose is to educate consumers, builders, and contractors on popular decorative techniques and applications. These include stamped concrete, stained concrete floors, concrete countertops, polished concrete, and much more. Over 11 million people visited ConcreteNetwork.com in 2009 to research, get ideas and to find a contractor.
The site excels at connecting buyers with local contractors in their area through its Find a Concrete Contractor service. The service provides visitors with a list of decorative concrete contractors throughout the U.S. and Canada, and is fully searchable by more than 20 types of decorative concrete work in over 200 regional areas throughout North America.
Photos courtesy of The Green Scene in Canoga Park, CA.
###