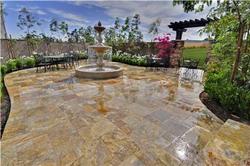 Calimesa, CA (Vocus) May 6, 2010 –-
Concrete patios are an excellent amenity for families who like to stay home and entertain. ConcreteNetwork.com reveals today's top four patio designs that homeowners across the country are choosing for their backyards. The site offers information on how to properly size each patio type for a specific area by offering common dimensions for each design and a free sizing chart.
The four most popular patio designs are:
•Bistro patios
•Outdoor living rooms
•Outdoor dining areas
•Sundeck patios
Great for side yards and back corner destinations, bistro patios are ideal for smaller spaces, while sundeck patios offer a little more room for lounge chairs and cocktail tables. For those looking to fill a bigger space, outdoor living rooms and dining areas allow for deep seating patio furniture and dining tables.
Incorporating there own unique design qualities, each patio can be customized to meet the needs of the homeowner and the allotted space. For more information on these patio designs and to print a free patio sizing chart, visit ConcreteNetwork.com.
Established in 1999, The Concrete Network's purpose is to educate consumers, builders, and contractors on popular decorative techniques and applications. These include stamped concrete, stained concrete floors, concrete countertops, polished concrete, and much more. Over 11 million people visited ConcreteNetwork.com in 2009 to research, get ideas and to find a contractor.
The site excels at connecting buyers with local contractors in their area through its Find a Concrete Contractor service. The service provides visitors with a list of decorative concrete contractors throughout the U.S. and Canada, and is fully searchable by more than 20 types of decorative concrete work in over 200 regional areas throughout North America.
Article photo courtesy of Belman Living in Rancho Cucamonga, CA. Attached photo courtesy of Artcon Decorative Concrete in San Clemente, CA.
###