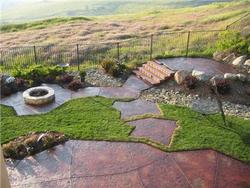 Calimesa, CA (Vocus) June 17, 2010
It's no secret that homeowners regularly look for ways to maximize the use of their properties. ConcreteNetwork.com has created an informational guide on patio designs that offers homeowners tips on maximizing a backyard space by creating inviting destinations with the use of concrete seat walls, water features, outdoor fireplaces and fire pits.
Summer is, no doubt, the most popular time of year to entertain outdoors. With the season quickly approaching, now is a great time to explore the possibility of creating a backyard destination using these four popular architectural features.
With a great design and strategic placement, each feature can serve as an inviting focal point into different areas of a backyard space. Concrete seat walls are a great way to create the feeling of different rooms or spaces in a yard, and water features are perfect for adding drama, and enhancing pools and landscapes. Properly designed fireplaces and pits often encourage conversation and provide warmth, light and promote relaxation.
For more information on patio designs and tips on creating outdoor destinations using these and other outdoor features, visit ConcreteNetwork.com.
Established in 1999, The Concrete Network's purpose is to educate consumers, builders, and contractors on popular decorative techniques and applications. These include stamped concrete, stained concrete floors, concrete countertops, polished concrete, and much more. Over 11 million people visited ConcreteNetwork.com in 2009 to research, get ideas and to find a contractor.
The site excels at connecting buyers with local concrete contractors in their area through its Find a Contractor service. The service provides visitors with a list of decorative concrete contractors throughout the U.S. and Canada, and is fully searchable by more than 20 types of decorative concrete work in over 200 regional areas throughout North America.
Article photo courtesy of Sacramento Artistic Concrete Inc in Granite Bay, CA. Attached photo courtesy of Progressive Concrete Works Inc in Phoenix, AZ.
###