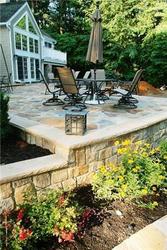 Calimesa, CA (Vocus) September 17, 2010
Summer may be coming to an end, but entertaining outdoors doesn't have to. The patio is one of the most important, and most used, features of backyards today, and fall is a great time to extend the use of this valuable feature. ConcreteNetwork.com, a leader in concrete patio information, has compiled a list of the top ten reasons why concrete is the optimal patio material.
Patios have always been a staple of backyards across the country. Whether celebrating with a child's birthday party or enjoying a fresh cup of coffee while reading the morning paper, patios are extensions of the home, and are a great way to make use of a home's property.
Although there are many materials available for patio construction, like natural stone, pavers and wood, concrete has proven to hold the most advantages, often at a fraction of the cost.
Here are the top ten reasons why concrete has become the preferred patio material:
1. Concrete does not need to be stained and sealed on an annual basis, like wood.
2. Concrete can be stamped, engraved, stenciled or textured to resemble pricier stone or brick pavers.
3. With the use of stains and other coloring methods, coloring options are extensive.
4. Concrete can be easily formed into any shape to accommodate space restrictions.
5. Unlike paving stones, grass and weeds won't sprout through sand-filled joints.
6. Concrete is durable and can stand up to a range of weather conditions.
7. Concrete patios are fully customizable, and no two will look alike.
8. The aesthetic appeal and durability of decorative concrete will boost the resale value of your home.
9. Concrete patios aren't vulnerable to termite infestation, wood rot or splintering.
10. Concrete is environmentally friendly.
For a complete list of the top ten reasons to install a patio, and for more information on the benefits and advantages of concrete patios, visit ConcreteNetwork.com.
Established in 1999, ConcreteNetwork.com educates consumers, builders, and contractors on popular decorative techniques and applications. These include stamped concrete, stained concrete, concrete countertops, polished concrete, and much more. Over 11 million people visited ConcreteNetwork.com in 2009 to research, get ideas and to find a contractor.
The site excels at connecting buyers with local concrete contractors through its Find a Contractor service. The service provides visitors with a list of decorative concrete contractors throughout the U.S. and Canada, and is fully searchable by more than 20 types of decorative concrete work in over 200 regional areas throughout North America.
Article photo courtesy of Concrete Concepts of NJ, Inc of Hackensack, NJ. Attached photo courtesy of Ortega's Concrete in Plainfield, IL.
###