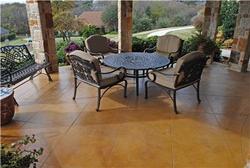 Calimesa, CA (Vocus) October 21, 2010
Don't let a small backyard space inhibit your creativity; get tips on incorporating a new concrete patio to fit a yard of any size. ConcreteNetwork.com has compiled a list of five design tips on creating perfect patios for small backyards by incorporating decorative concrete techniques.
As more housing tracts are developed and living spaces across the US get smaller, homeowners are faced with making the most of the space they have and that includes optimizing smaller backyards. Concrete patios are a great way to incorporate an outdoor living and entertainment area, without worrying about space restrictions.
Here are ConcreteNetwork.com's five design tips for small backyard patios:
1. Incorporate curves so that the patio blends with the landscaping.
2. Add a pattern or stenciled design to give the look of natural stone.
3. Include a border to clearly and cleanly define the patio area.
4. Create a wide array of decorative effects by incorporating colors that complement surroundings.
5. Allow enough space for desired outdoor furniture to fit properly.
Using these tips and more, small backyards can be transformed into spacious retreats. For more design ideas and inspiration, visit ConcreteNetwork.com's extensive patios photo gallery featuring completed patio projects.
Established in 1999, ConcreteNetwork.com educates consumers, builders, and contractors on popular decorative techniques and applications. These include stamped concrete, stained concrete, concrete countertops, polished concrete, and much more. Over 11 million people visited ConcreteNetwork.com in 2009 to research, get ideas and to find a contractor.
The site excels at connecting buyers with local concrete contractors through its Find a Contractor service. The service provides visitors with a list of decorative concrete contractors throughout the U.S. and Canada, and is fully searchable by more than 20 types of decorative concrete work in over 200 regional areas throughout North America.
Article photo courtesy of The Concrete Studio in Dallas, TX. Attached photo courtesy of Sundek of Nashville in Hendersonville, TN.
# # #