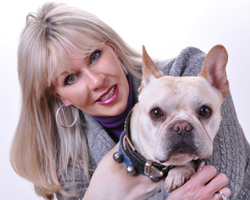 The PH of a canine's skin is a neutral 7 to 7.4 while human skin is more acidic at 5.5 to 6.8. Any product manufactured for humans is too acidic and will cause irritation and flaking of your dog's skin
Orlando, FL (Vocus) March 27, 2010
Today, Christine Heathman, an avid animal lover and 30-year skin care industry and age management expert, today announced, the official re-release of her Pugsley's Choice pet product line in correlation of the Global Pet Expo, March 25-27th in Orlando, FL.
Pugsley's Choice, named after one of five of Christine's beloved French Bulldogs, is a line of natural, eco-friendly products that aid dogs in preventing and resolving major skin problems in dogs.
According to Christine Heathman, founder of Glymed Plus Institute of Skin Science was searching for natural products for her pets when she decided to create a sister company which produced the products she needed for her own dogs.
"The PH of a canine's skin is a neutral 7 to 7.4 while human skin is more acidic at 5.5 to 6.8. Any product manufactured for humans is too acidic and will cause irritation and flaking of your dog's skin," said Christine Heathman. "Some caustic chemicals pet owners unknowingly use on their dogs could cause illness and even death. I created Pugsley's Choice so I could trust the products I use when bathing and caring for the skin of my family of pups."
Christine Heathman coupled her decades of human skin care knowledge with expert assistance in developing natural pet formulas to create Pugsley's Choice products which include FUR-ESH Super conditioning pet shampoo, FUR-EE Detangler and Glosser, STOP BUG-GIN' ME! Flea and Tick Repellant and SNIFF-IT Odor Eradicator.
"My dogs are into everything and I needed to know I was bathing them in something that would nourish their skin, repels dirt, remove odor, provide shine and last to the next bath to help keep them healthy," said Heathman. "Pugsley's Choice Shampoo has naturally based organic conditioners that create the perfect PH for pet skin and hair and additionally include Cactus flower extract which has been used in American Indian cultures to heal minor burns, bites and scrapes. It does exactly what I need it too; it is affordable and gives me peace of mind."
All Pugsley's Choice products have the balance of both natural and bio-engineered preservative ingredients to prevent formula degradation. Without these safe and substantiated components, the products would require refrigeration. It is important to remember that all Pugsley's Choice products are formulated to be safe to use around any two or four-legged, warm-blooded animals, including the new born.
For a full brochure on the products and for more information please visit http://www.pugsleys-choice.com.
About Pugsley:
Pugsley is a lovable French Bulldog who lives with his family in the Wasatch Mountains of Utah. Pugsley was the inspiration for the Pugsley's Choice line of natural pet care products. Get to know Pugsley and follow his adventures with his ever growing circle of friends on the back label of every Pugsley's Choice product! For more information please visit: http://www.pugsleys-choice.com.
About Christine Heathman:
Christine Heathman, LMT, ME, Author, Industry Innovator, Educator, and CEO and Founder of GlyMed Plus Institute of Skin Science™ has 30 years of experience in skin care and is well-recognized age management expert. Most importantly, the proud family leader of 5 French Bull dogs and several horses and lives on a large ranch in the Rocky Mountains.
For eMedia questions, please contact: Kim Power Stilson, kstilson (at) glymedplus (dot) com or call 800-676-9667.
###