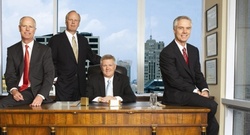 (Vocus) September 15, 2010
In a decision that brings justice to thousands of patients with asbestos-linked cancer and their families, a U.S. bankruptcy judge has ruled that the pharmaceutical giant Pfizer Inc. acted in bad faith, manipulating the bankruptcy proceedings of a subsidiary to shield itself from asbestos-related liability (United States Bankruptcy Court, Southern District of New York, re: Quigley Company, Inc., Case No. 04-15739 (SMB)).
The decision, rendered in New York City by Judge Stuart M. Bernstein, rejected Pfizer's Chapter 11 plan for Quigley Company, Inc., which would have included putting about $450 million into a trust for potential asbestos claims substantially less than the $900 million-plus Judge Bernstein cited as the actual liability the company faced.
Mesothelioma plaintiffs, represented by the Chicago law firm of Cooney & Conway, objected to the Pfizer-Quigley scheme, calling it as Judge Bernstein has now ruled a disingenuous attempt to evade responsibility for asbestos-related disease. The law firm contested the scheme throughout the proceedings.
Under Pfizer's strategy, liabilities for the company's past use of asbestos in products made by Pfizer and its subsidiaries would have been included in the Quigley bankruptcy reorganization plan. This would have resulted in miniscule payments to thousands of mesothelioma victims and their families.
Pfizer's attempt to manipulate the justice system for its own benefit and to the detriment of those most gravely injured by Pfizer's asbestos products, including Navy veterans and their families, is a horrendous example of corporate indifference to the suffering it has caused, said John D. Cooney of Cooney & Conway. With today's ruling, those harmed or killed by Pfizer's actions will be able to face the wrongdoers in the tort system. Mesothelioma victims will have their day in court, which is what Pfizer sought to avoid.
As a result, Pfizer will be subject to asbestos lawsuits, and those most harmed by exposure to the toxic substance will have the chance to obtain a far more equitable recovery. That is particularly important in cases where a worker has been diagnosed with mesothelioma, an aggressive asbestos-related cancer that is invariably fatal.
Now, after a six-year court battle, those mesothelioma victims have reclaimed their right to face Pfizer in the civil justice system.
In his ruling, Judge Bernstein found that Pfizer had offered to settle claims with certain plaintiffs mostly those with nonmalignant injuries in exchange for their votes to approve Quigley's bankruptcy. Had the scheme worked, Pfizer would have paid seriously injured claimants, such as those suffering from mesothelioma, far less than they likely would receive as an outcome of litigation.
The court understood exactly what Pfizer was trying to do. As Judge Bernstein stated in his decision: Here, Pfizer wrongfully manipulated the voting process to assure confirmation of the Quigley plan, and thereby gain the benefit of the channeling injunction for itself and the other Pfizer Protected Parties.
For further information, please contact John D. Cooney at 312-236-6166.
Follow the law firm on Facebook: http://www.facebook.com/CooneyAndConwayMesotheliomaLawyers
Media Contact:
John D. Cooney at 312-236-6166
Email: kbyrne(at)cooneyconway(dot)com
###