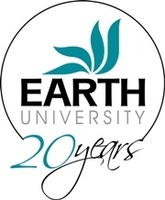 Here in Atlanta, we are looking forward to the Pillars of EARTH event with great anticipation and hope to make it a celebration of all we love about EARTH University and its 20 years of unbridled success
Atlanta, GA (Vocus) June 21, 2010
Today EARTH University Foundation, headquartered in Atlanta, Georgia, has announced its October 14th awards gala event, Pillars of EARTH: Sustainable Leadership Awards.
"Here in Atlanta, we are looking forward to the Pillars of EARTH event with great anticipation and hope to make it a celebration of all we love about EARTH University and its 20 years of unbridled success," commented Liliana Salas-Grip, Director of Development of EARTH University Foundation. The event, which coincides with the 20th Anniversary of Costa Rica based EARTH University, will honor four Georgia residents who have demonstrated leadership in sustainability initiatives.
Awards will be presented in four areas corresponding to the four pillars of an EARTH University education: ethical values, environmental and social responsibility, entrepreneurial spirit and technical and scientific knowledge. Nominees for the four award categories will be made by an Atlanta-based nominations committee and will also be accepted through an open nominations process. A separate national selection committee will select the four award recipients from among the nominees.
Atlanta residents Jane C. and Dameron Black III will host Pillars of EARTH at the Hotel Palomar in Atlanta from 6:30pm to 9:30pm on October 14th, 2010. "This event reinforces the core values of EARTH University: human development, academic excellence, ethical behavior, social consciousness, the search for knowledge, sustainable development and biodiversity conservation," said Mrs. Black, a member (Chairman Emeritus) of the EARTH University Foundation Board of Trustees.
Hotel Palomar was chosen because of Kimpton Hotels', the parent company, dedication to sustainability. Their stated mission is to support a sustainable world by using non-intrusive, high quality, eco-friendly products and services at all Kimpton Hotels and Restaurants. Kimpton recognizes that sustainability requires a commitment to continuous improvement and therefore they regularly assess their efforts and incorporate new products and practices that further reduce the company's ecological impact. The event will follow Hotel Palomar's sustainable practices while featuring sustainable décor and a menu of local produce.
Pillars of EARTH will feature Karen Caplan as Mistress of Ceremonies. Ms. Caplan is President and CEO of Frieda's Inc. and has held many board memberships in the food industry, including a role as the first woman chairman of the Board of the United Fresh Fruit and Vegetable Association. She is a past president of the National Association of Women Business Owners – Los Angeles, and an active member of the Committee of 200, The International Women's Forum, International Association of Culinary Professionals, and Women Chefs & Restaurateurs.
The event's guest speaker will be Olivia Zaleski, CNN money's environmental correspondent and host and co-producer of the Emmy nominated series, "Business of Green," an in-depth look at the sustainability claims of America's largest corporations. Ms. Zaleski previously served as the host of Fortune Magazine's interview series, "Brainstorm Green." A major proponent of DIY energy efficiency, Zaleski is also the host of Money Magazine's popular do-it-yourself video series, Home Work as well as a regular guest expert on ABC's Good Morning America Now, Discovery Networks' Treehugger TV, Hearst Magazine's The Daily Green, Marie Claire, Isaac Mizrahi TV, Plum TV, The Dr. Pat Show and the nationally syndicated morning news program, The Daily Buzz.
Celebrating its 20th Anniversary in 2010, EARTH University (http://www.earth.ac.cr) was founded with the support of the United States Agency for International Development (USAID), the W.K. Kellogg Foundation and the Government of Costa Rica to prepare young people from economically-depressed communities in Latin America, the Caribbean and other regions, including Africa and Asia, to become agents for change in their communities. EARTH offers a four-year undergraduate program in agricultural sciences and natural resources management, providing a world-class scientific and technical education that emphasizes values, ethics, entrepreneurship and environmental and social commitment. Through the generous support of donors, EARTH University provides opportunities to young people who want to make a difference in the world but lack the financial resources for higher education.
EARTH University Foundation (http://www.earth-usa.org) was formed to support the educational vision of EARTH University through generous gifts from the global community and other programs and initiatives. The Foundation is a registered 501(c)(3) public charity headquartered in Atlanta, Georgia.
In addition to Kimpton Properties and the Hotel Palomar, Pillars of EARTH: Sustainable Leadership Awards is being made possible by the sponsorship of the Katherine John Murphy Foundation, Jeannie Wright and many other generous sponsors. More information about the event is available at pillars.earth-usa.org or by contacting Melonie Tharpe by phone at 404-995-1257.
# # #