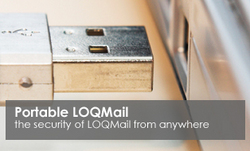 Portable LOQMail provides an exciting new extension to our core WebLOQ technology.
Monterey, Calif. and Washington, D.C. (PRWEB) October 26, 2010
WebLOQ, Inc. today announced Portable LOQMail, a USB key based product that enables a convenient and powerful way for individuals, companies and organizations to achieve a new mobile email service that is resident on a USB key. Automatically connecting to the LOQMail private environment, a USB key enabled with Portable LOQMail is ideal for those on the go – traveling abroad or trusted with sensitive information that must be shared by email. WebLOQ will be launching and demonstrating Portable LOQMail at this week's SINET Conference in Washington D.C.
Portable LOQMail works by opening a private email session from a USB key plugged into any host computer with an Internet connection. Emails sent and received are not stored on the borrowed computer or in its temporary directories, rather on the USB key itself. The new Portable LOQMail service does not expose the private email session to the ordinary email services installed on the host computer. When the user is done with the email session, they simply remove the USB key and walk away. In most normal usage, no copies of emails or documents, or any information about the session, are left on the host computer – limiting the risk of exposing the private email session or documents, and the ability of the next person that uses the host computer to recover emails or files. Private emails and attachments are routed through the LOQMail secure channels to anywhere in the world, and are automatically protected using LOQMail's industry standard, double-encryption methodologies.
"Portable LOQMail provides an exciting new extension to our core WebLOQ technology," said George Sidman, Chairman and CTA. "The ability to travel with not only files and documents that are safe on the USB key, but extending that value by adding email that is also portable and private, means that LOQMail customers can securely exchange emails from any computer, without the dependence and risks of using the borrowed computer's email services. While this certainly appeals to the needs of law enforcement, government and defense; there is a very large group of business professionals, financial services companies and healthcare providers that can benefit from having a device that allows for the convenience of file portability combined with secure email to comply with growing national and state privacy legislation."
The Portable LOQMail service is simple to install on most USB drives and easily synchronized with standard LOQMail accounts. The USB key can be used anywhere in the world with the majority of computers that have USB ports and a connection to the Internet. LOQMail can also be used seamlessly alongside or within secured government or defense networks.
The new Portable LOQMail product is based on version 2.0 of LOQMail that features a secure read-only service that allows users to send private messages and files to their business partners and clients – at no cost to them - when secure one-way communications will suffice. LOQMail also includes auditable reports that trace delivery confirmations with an individual tracking number to easily demonstrate compliance to regulators and facilitate eDiscovery.
WebLOQ's technology has been rigorously tested by independent laboratories for vulnerabilities and performance. LOQMail is the only solution available today that seamlessly moves emails from sender to recipient – through central databases - with no decryption cycles along the way. The dual-layer encryption assures that prying eyes cannot see any part of the email, including the addresses and subject headings.
For more information about Portable LOQMail, or to download a 30-day free trial of LOQMail 2.0 visit http://www.loqmail.com.
About WebLOQ
WebLOQ enables secure, private and compliant electronic communications. Combining revolutionary technology with unrivaled ease-of-use, WebLOQ's suite of LOQMail solutions simply integrate directly into users' email or via a portable email client on a secure USB drive to provide a trusted communications channel to ensure that sensitive email, documents and personal information is delivered and received only by the intended recipients. Emails sent via LOQMail are protected with state of the art double-encryption and are transmitted over WebLOQ's private network of domains that are shielded from spam, phishing, and malware for comprehensive security. Its flagship products include a secure read-only functionality to correspond with non-subscribers, and auditable reports that trace delivery confirmations with an individual tracking number to easily demonstrate compliance to regulators and facilitate eDiscovery.
LOQMail is successfully helping organizations across financial services, insurance, healthcare, legal, accounting, government, defense and law enforcement gain the cost savings and efficiencies of email, while making sure that sensitive correspondence is compliant with growing national and state privacy regulation. WebLOQ is headquartered in Monterey, CA and more information is available at http://www.webloq.com, or by calling (888) 815-0008.
# # #