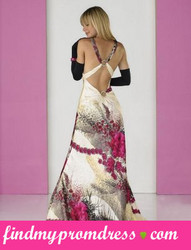 Remember to order as early as possible as designer production is limited. What this means for you is that popular dress styles sell out early; potentially in February.
Roseville, CA (PRWEB) February 4, 2010
For the prom dresses 2010 season, there are a huge range of styles available for all tastes. Prom goers will see everything from slim-fitting, sexy dresses to Cinderella ball gowns. Super short and sassy dresses are huge right now and are going to be enormously popular for Prom 2010. Prints are being introduced in a big way and the sleeper trend might be the one-shoulder styles. With so many styles it can sometimes be overwhelming to shop for a formal wear dress. It helps to have some ideas of style or color preferences before beginning shopping, but be open-minded during the process for possibilities one never considered.
For walking into a room and looking hot this year, the sexy slim-fitting Flirt P4415 is the must have dress. With the sexy slit and low back this gown has been extremely popular. Interest is high in all colors, but the red is the most popular and is sure to sell out early! Flirt's high quality dresses and fashion forward designs always make it a top selling brand. Another super sexy dress for 2010 is the Studio17 12155. This beaded gown is perfect for any event and the sparkle and shine can really turn heads. The fuchsia/silver color is very popular and stunning. One last sexy style captivating prom goers with the new trend in prints is the Tiffany 16563 which is a gorgeous softer print gown with the edge and sexiness of the low back and deeper plunge front. This is a great look for girls who like that contrast between sexy and sweet.
A huge interest in short prom dresses came about within the past year and has really taken off with Spring 2010 collection. Find My Prom Dress is seeing an emerging trend of customers who want to wear short dresses to their formal events. The rules of yesterday are gone, and girls love to comfortably rock in a short dress and some hot shoes! Many of our manufacturers have recently gone to making new lines of just short dresses due to the surging demand. Sherri Hill has been the trailblazer in the industry with their sexy and sassy short dresses. This year they have done it again with the Sherri Hill 2250. This is an update of the popular babydoll design. This fun and flirty dress has a super cute tulle skirt with embroidered butterflies and comes in five colors. Another fantastic short dress for 2010 is Maggie Sottero's Flirt P5434. This dress is wildly popular and sure to sell out early.
Many buyers want the fairytale princess ball gown. Last year the drop waist, caught up ball gown was a huge trend. This trend continues into 2010. The classic tulle ball gown is still very popular and always in style. One trend continuing into Prom 2010 is the increasing use of bold and dramatic color choices for ball gowns. Nowadays one can find print ball gowns, black ball gowns, contrast bodice ball gowns and more! One popular ball gown this season is Flirt's P1412. This is an updated version of a ball gown Flirt had last year. Customers who want a more edgy ball gown will fall in love with this print bodice ball gown with black skirt. A more classic ball gown that is popular this season is Mori Lee's 8446. This gown features a traditional tulle style skirt with an updated V-notch neckline with modern beadwork and is very classy.
The last major category of dresses are for teens who want something in between a ball gown and a sexy style. This buyer is typically looking for a gown that tends to be more A-line and/or higher back. An example of a style that is popular is the Night Moves 6082. This strapless gown with sweetheart neckline is a very classic style that is great for flattering many figure types. Flirt Prom also brought back the Flirt P4309 which was a huge seller last year and now is available in a deep fuchsia color.
Nancy Fallat, owner of Find My Prom Dresses says "Remember to order as early as possible as many of the top prom dress manufacturers have cut back on production and inventory during these tough economic times. What this means for you is that popular dress styles will sell out earlier than normal; potentially in February." Experienced prom dress customers from last year realize this and place their orders early in order to purchase a hot style dress of their dreams without worrying.
About Find My Prom Dress
The mission of Findmypromdress.com is to stock thousands of dresses that are handpicked for the teen customer base. Unlike bridal shops, their primary customers are shopping for prom and pageant so gowns have a younger feel and are fresh, youthful, and fashion-forward. Through the use of surveys and early sales data, stock is increased of the anticipated hottest styles for the season in order to provide the best customer experience for buying prom dresses online.
# # #