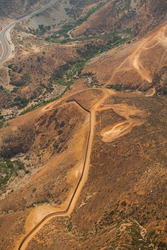 Santa Ana, CA (Vocus) April 1, 2010
Sukut Construction Inc.'s new website attracted nearly 2,000 new visitors in one month, quickly proving itself to be a powerful marketing tool for the company's strategic expansion into large-scale public works.
Data from the website's inaugural month of operation identified visitors from 54 countries and 772 cities and mining towns. More than 700 visitors specifically clicked on pages related to Sukut's growing portfolio of federal projects. Overall, visitors spent 54% more time than usual at the new website and perused an average of 5 pages per visit, an increase of 47%.
The new website, http://www.sukut.com, launched on Feb. 7. It was designed to highlight Sukut's reputation as one of the nation's premier heavy civil engineering contractors. The website's home page provides an easily searchable, left-column list of Sukut's areas of expertise, including dams, levees and reservoirs; emergency disaster response; environmental land remediation; mines; and flood and storm water control.
The home page also reflects Sukut's geographical expansion into Nevada, Arizona, Utah and Wyoming. The company's new tagline - 'Building the West from the Ground Down' – is bannered across the top of the page. The company's licenses in California, Nevada and Arizona, as well as its federal mining license, are provided for easy reference in the bottom right corner.
The website is the first step in Sukut's marketing campaign to increase the company's visibility and growth. Other findings from the website's first month: half of the total 3,108 visitors (including 487 Sukut employees) found Sukut through a search engine and half by typing in the company's name; one visitor a day comes to Sukut by way of the Blue Book database of construction professionals; visitors are searching Sukut's products and services; and at least one visitor from the Point Mugu Naval Base in Port Hueneme, Calif. spent 45 minutes perusing 124 pages on Feb. 20.
Sukut also is know for its rental of heavy earth moving equipment, fitted with GPS and clean-air engine technology. The company has one of the largest equipment fleets in California.
Sukut Construction is California's largest mass excavation and grading contractor and has moved over a billion cubic yards of earth. It is ranked within the top 500 largest contractors in the nation. Its projects range from highway construction to residential grading to waste water management systems. Projects include the construction of four, 60-acre waste water treatment ponds holding more than 1 billion gallons for the Los Angeles Sanitation District and a seismic retrofit of the San Pablo Dam for the East Bay Municipal Water District. It is also charged with site development for a section of the U.S.-Mexico border fence and is widening a 1.3-mile segment of State Route 76 in Fallbrook and straightening its alignment.
###