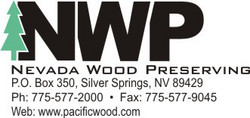 "Even though we had over 200 letters of support compared to a very small number of total people complaining, we wanted to make sure we took these residents' concerns seriously." Dan Young, Nevada Wood Preserving Plant Manager
Silver Springs, NV (PRWEB) July 26, 2010
Nevada Wood Preserving ("NWP") began production with its new block dissolver this month, which allows it more control over its production components. The dissolver is fully contained in a building which is sealed and all vapors are filtered through a carbon filtration system, virtually eliminating any odors.
"All I smell is fresh air" exclaimed Dan Young, plant manager, as he neared the outlet of the air filtration system. The system was designed so that NWP could have more control over its wood treating ingredients, and lower odors. "We've also located a very low odor carrier liquid, and the combination of the block dissolver and low-odor carriers will mean we can continue to keep local residents happy," Young said.
Young said that NWP has received only two odor complaints in the last few months as production ingredients and processes have been adjusted. The locations of these complaints are a mile or more from the plant and near other potential odor sources. The new block dissolver will further enhance the changes NWP has made over the last year to reduce odors. NWP worked cooperatively with the Nevada Department of Environmental Quality to address local resident concerns. The new block dissolver cost NWP over $300,000 to construct. "Several residents that have historically complained about odors have called me to express their gratitude" about the changes NWP has made to its processes, Young said.
NWP was never in violation of any odor ordinance or law, and odor complaints were sporadic and modest in number, never coming close to threshold levels considered a nuisance. "Even though we had over 200 letters of support compared to a very small number of total people complaining, we wanted to make sure we took these residents' concerns seriously," Young said.
NWP is a member of the Pacific Wood Preserving Companies and produces wood utility poles, agricultural wood products, treating services only (TSO) and untreated wood products. NWP employs over 40 local residents, plus creates many additional ancillary jobs such as truck drivers who deliver poles to and from the site. All products are manufactured utilizing the latest technology in an environmentally forward-thinking manner. Pacific discusses its commitment to the environment under its "sustainability" section of its website, which can be found at http://www.pacificwood.com.
The Pacific Wood Preserving Companies are one of the largest capacity wood products companies in the United States, with facilities in Bakersfield, CA; Eloy, AZ; Silver Springs, NV; Sheridan, OR and New Willard, TX. Major products include treated wood utility poles, railroad ties, crane mats, fire retardant treated wood and preservative treated wood for construction and agriculture.
###