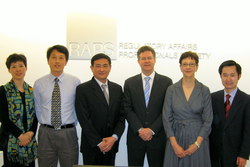 USST is the only school in China offering bachelor's, master's and PhD programs in medical devices and is in an important position for educating and training regulatory professionals in China and internationally
Rockville, MD, USA (Vocus) May 5, 2010 —
The Regulatory Affairs Professionals Society (RAPS) this week announced an agreement with the University of Shanghai for Science and Technology (USST) in Shanghai, China, to work collaboratively in developing regulatory education content for the university. As part of the agreement, RAPS will provide some of its existing online course content currently offered through RAPS Online University, which will be adapted for USST's students, as well as guide the university in developing new regulatory curricula and providing advice and support to university faculty. The partnership will initially focus on courses covering regulation of medical devices, but could possibly expand to cover pharmaceutical or other medical products in the future.
"USST is the only school in China offering bachelor's, master's and PhD programs in medical devices and is in an important position for educating and training regulatory professionals in China and internationally," said Dr. Baolin Liu, Professor and Dean, School of Medical Instrument and Food Engineering, USST, Shanghai. "We had hoped to partner with RAPS, the leading international regulatory professional organization, and look forward to great success."
The healthcare sector in China is developing rapidly and the need for comprehensive regulatory knowledge is on the rise among researchers, scientists, engineers, business professionals, government officials and others. The regulatory coursework offered through the RAPS-USST collaboration will be aimed at three primary audiences: potential and new regulatory professionals, scientists and engineers involved in medical technology research and development and government inspectors.
"This partnership represents an important step forward for the global regulatory profession and further demonstrates the profession's critical importance in the continued global expansion of the healthcare products sector," said RAPS Chairman Mark Gordon. "RAPS is glad to be in a position to help connect regulatory professionals in emerging healthcare markets like China with the collective expertise of the worldwide regulatory community."
About RAPS
The Regulatory Affairs Professionals Society (RAPS) is an international membership organization of regulatory professionals in the rapidly growing medical device, pharmaceutical and biotechnology sectors. Regulatory professionals play vital roles in making better healthcare products possible. They work throughout the healthcare product lifecycle, ensuring these products are safe and effective, while driving organizational strategy and sound decision-making. RAPS supports these individuals and the regulatory profession by providing education and training, Regulatory Affairs Certification (RAC), professional standards, research, knowledge-sharing, publications, networking, career development opportunities and other valuable resources; and is committed to helping its members continually develop the knowledge and skills they need to excel. RAPS is headquartered near Washington, DC, with offices in Brussels and Tokyo. RAPS.org
###