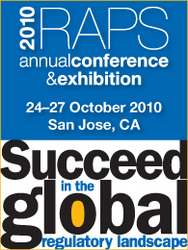 The healthcare product sector and the regulatory profession are more truly global today than ever before
Rockville, MD (Vocus) September 29, 2010
Regulatory professionals working to ensure the safety, effectiveness and availability of healthcare products, including pharmaceuticals, medical devices and biotechnology, will gather in San Jose, CA, 24–27 October, for the 2010 RAPS Annual Conference & Exhibition from the Regulatory Affairs Professionals Society (RAPS). The conference, the largest annual gathering exclusively for the regulatory profession, will take place at the San Jose McEnery Convention Center.
In one of the most globally representative conferences RAPS has ever convened, attendees will hear from top officials from the US Food and Drug Administration (FDA) and Department of Justice (DOJ); the European Medicines Agency (EMA); China's State Food and Drug Administration (SFDA); Japan's Pharmaceuticals and Medical Devices Agency (PMDA) and Ministry of Health, Labour and Welfare (MHLW); Brazil's National Health Surveillance Agency (Anvisa); The Netherlands' Ministry of Health, Welfare and Sport; and Health Canada. In all, more than 50 agency representatives, including at least 27 from FDA alone, will provide insight to conference attendees.
The 2010 conference also will feature presentations from leaders in the global regulatory community from industry, academia, research and other disciplines, discussing critical issues and trends in healthcare product regulation, business, technology and strategy. Renowned innovation expert and professor at Dartmouth University's Tuck School of Business Vijay Govindarajan will open the conference's first official day of sessions with a keynote address on Monday, 25 October.
For more information and a complete listing of the more than 70 conference sessions and events, visit RAPS.org/ac2010. Follow conference updates on Twitter with the hashtag #2010RAPS.
"The healthcare product sector and the regulatory profession are more truly global today than ever before," said RAPS Executive Director Sherry Keramidas, PhD, CAE. "The RAPS Annual Conference gives the global regulatory community an opportunity to network, exchange ideas, share experiences and discuss critical issues face to face, transcending geographic and cultural boundaries, as well as to celebrate this critically important profession."
2010 RAPS Annual Conference highlights include:
Monday, 25 October
8:30–10:00 am, Vijay Govindarajan Keynote
1:30–3:00 pm, EMA Executive Staff Briefing
1:30–3:00 pm, FDA Center for Drug Evaluation and Research (CDER) Executive Staff Briefing
3:30–5:00 pm, Biosimilars
3:30–5:00 pm, CDER Drug Safety Oversight Board and Safety Communications Update
3:30–5:00 pm, The Role of Regulatory in Clearing the Fourth Hurdle (Reimbursement)
Tuesday, 26 October
8:30–10:00 am, FDA Center for Devices and Radiological Health (CDRH) Executive Staff Briefing
10:30 am–12:00 pm, Japan's PMDA Executive Staff Briefing
1:30–3:00 pm, Overview of China Medical Device Supervision, Regulation and Technical Evaluation
1:30–3:00 pm, Lessons Learned From H1N1 and HIV Programs
1:30–3:00 pm, EU Medical Devices Directives: Recast of the Directives and Informal Panel Discussion
3:30–5:00 pm, 510(k) Program Update
3:30–5:00 pm, FDA Center for Biologics Evaluation and Research (CBER) Executive Staff Briefing
3:30–5:00 pm, Preparing for FDA Advisory Committee Meeting
Wednesday, 26 October
8:30–10:00 am, Orphan Drugs
8:30–10:00 am, REMS: Theory, Practice, Evolution
8:30–10:00 am, Current Issues in Advertising and Promotion in Today's Internet and Social Media World
10:30 am–12:00 pm, Special Session: Stories From the Front Lines
Members of the working media who wish to cover all or part of the 2010 RAPS Annual Conference & Exhibition should contact Zachary Brousseau, senior manager, communications for RAPS. On-site registration also will be available for media with valid press credentials or a letter from an assigning editor on company letterhead.
Conference sponsors include: Abbott, BSI, Dassault Systèmes, GE Healthcare, Greenleaf Health, Makrocare, Parexel, QPharma, Tarius and TÜV SÜD America.
About RAPS
The Regulatory Affairs Professionals Society (RAPS) is an international membership organization of regulatory professionals in the rapidly growing medical device, pharmaceutical and biotechnology sectors. Regulatory professionals play vital roles in making better healthcare products possible. They work throughout the healthcare product lifecycle, ensuring these products are safe and effective, while driving organizational strategy and sound decision-making. RAPS supports these individuals and the regulatory profession by providing education and training, Regulatory Affairs Certification (RAC), professional standards, research, knowledge-sharing, publications, networking, career development opportunities and other valuable resources; and is committed to helping its members continually develop the knowledge and skills they need to excel. RAPS is headquartered near Washington, DC, with offices in Brussels and Tokyo. RAPS.org
# # #