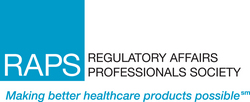 the science of developing new tools and approaches to assess the safety, efficacy, quality and performance of FDA-regulated products.
Rockville, MD (Vocus) October 7, 2010
The Regulatory Affairs Professionals Society (RAPS) voiced its support today for a new plan from the US Food and Drug Administration (FDA) to advance the field of regulatory science. FDA unveiled its Regulatory Science Initiative this week and outlined the agency's plan in a white paper titled Advancing Regulatory Science for Public Health. Commissioner Margaret Hamburg discussed the plan and highlighted the importance of investing in regulatory science during a speech yesterday at the National Press Club in Washington, DC.
RAPS Executive Director Sherry Keramidas, PhD, CAE, commented on the plan. "This is a critical time in the history of medicine and medical technology. Scientific innovations are being pioneered every day that could have a profound impact on the lives of patients in need of new treatments. But bringing those breakthroughs from the scientific bench to patients' bedsides is not a simple process. Medicines and medical devices must be assured to be safe and effective, using the best scientific knowledge and processes available. Regulatory science is the important link in the process that helps translate breakthroughs in the laboratory into practical treatments in hospitals, doctors' offices and peoples' homes around the country and around the world. RAPS applauds FDA's commitment to regulatory science and supports its plan for maximizing its potential to promote public health."
The FDA white paper defines regulatory science as "the science of developing new tools and approaches to assess the safety, efficacy, quality and performance of FDA-regulated products." The concepts in the paper are clearly aligned with the knowledge and scope of practice of regulatory professionals, as identified in the 2010 RAPS Scope of Practice & Compensation Report.
"While regulatory science may not be broadly understood by the general public, it is absolutely essential to the development and availability of cutting-edge healthcare treatments and must be factored into every part of the healthcare product lifecycle," said Keramidas. "The plan FDA lays out has the potential to be a real game-changer for public health and RAPS looks forward to having an opportunity to work with agency officials to support FDA's efforts in this area."
FDA's initiative will be supported by a four-part framework that includes creating new FDA Centers of Excellence in Regulatory Science, further developing the agency's in-house expertise and working collaboratively with external stakeholders.
Commissioner Hamburg first stressed the importance of supporting regulatory science as early as last year when she addressed attendees of the 2009 RAPS Annual Conference & Exhibition in Philadelphia.
About RAPS
The Regulatory Affairs Professionals Society (RAPS) is an international membership organization of regulatory professionals in the rapidly growing medical device, pharmaceutical and biotechnology sectors. Regulatory professionals play vital roles in making better healthcare products possible. They work throughout the healthcare product lifecycle, ensuring these products are safe and effective, while driving organizational strategy and sound decision-making. RAPS supports these individuals and the regulatory profession by providing education and training, Regulatory Affairs Certification (RAC), professional standards, research, knowledge-sharing, publications, networking, career development opportunities and other valuable resources; and is committed to helping its members continually develop the knowledge and skills they need to excel. RAPS is headquartered near Washington, DC, with offices in Brussels and Tokyo. RAPS.org
###