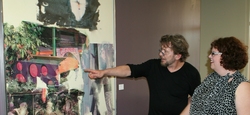 This is Pottorf's second show at Brenau, and it is important to Brenau students and our arts patrons for a number of reasons
Gainesville, Ga (Vocus) September 24, 2010
Brenau University presents the first showing anywhere of some new multi-canvass, multimedia works by Captiva, Fla.-based artist Darryl Pottorf, a long time collaborator and partner of pop art icon Robert Rauschenberg.
The exhibit, entitled "Links" will be on display from Thursday, Oct. 7, through Nov. 21 in the Sellars Gallery on Brenau University's Gainesville campus. In addition, Pottorf will appear at an opening night artist talk and reception Oct. 7, both free and open to the public, from 6 to 8 p. m. in the gallery, which is located in the Simmons Visual Arts Center adjacent to Pearce Auditorium on Centennial Circle.
"This is Pottorf's second show at Brenau, and it is important to Brenau students and our arts patrons for a number of reasons," says Brenau Galleries Director Vanessa Grubbs. "He will debut some new pieces that have not been shown anywhere else. These are particularly exciting works with very interesting sculpturally shaped canvases."
This collection includes a mix of multimedia and multi-canvas pieces in a never-before-seen exhibit. The exhibit features some of Pottorf's newest work and, no doubt will showcase his immense talents as a storyteller.
Pottorf, bootstrapped his way into the art world. Born in Ohio, he grew up in South Florida and financed his education studying architecture in his father's home construction business. He first encountered Rauschenberg's work while studying in Florence, Italy. That, along with other information and history he absorbed while at the seat of the Italian Renaissance, inspired him to return to the United States and shift his course of study to art. He enrolled in Edison Community College in Ft. Myers, Florida, and as luck would have it, while taking a printmaking class got a chance to work in nearby Captiva as assistant to a local artist – Robert Rauschenberg.
This assistantship involved a lot of painting – but it was more along the lines of what he did in his father's construction business. His first "work" was Rauschenberg's garage. He also hauled lumber, "swabbed decks" and performed a lot of other grunt work to earn his opportunity to experiment with its own abstract art (which involved pouring black ship's paint on aluminum panels) while taking in and participating in the behind-the-scenes happenings of the Rauschenberg studio. The relationship evolved, lasting until Rauschenberg's death in 2008, and so did Pottorf's work.
"You work every day," he recently told a newspaper interviewer. "Don't try and make everything a masterpiece. There will be good and bad pieces. If you work hard enough, there will be masterpieces."
In August Brenau became officially affiliated with the High Museum of Art in Atlanta is the museum's first academic partner, a relationship that among other things, involves cross promotion of various activities to broaden audiences of each institutions' exhibitions.
In addition to presenting several exhibitions each year featuring works of new and established artists from around the world, Brenau holds an impressive permanent collection of artworks, many of which were accumulated with the assistance of famed New York arts dealer Leo Castelli, who served on the Brenau Board of Trustees from 1991 until his death in 1999. Castelli represented Rauschenberg among his impressive stable of important artists, which also included Georgia-born Jasper Johns, whose aunts, Gladys and Eunice, were Brenau alumnae.
For more information about this or other exhibits and programs at Brenau University Galleries, please call 770-534-6263 or email gallery@brenau.edu. Brenau University Galleries and Brenau University are non-profit institutions providing educational and visual art experiences for the North Georgia Community.
ABOUT BRENAU – Founded in 1878, Brenau University currently enrolls about 2,800 students in graduate, undergraduate and preparatory programs on campuses and online. The main campus of the Georgia-based liberal arts institution, which includes the Brenau Women's College, is in Gainesville with other campuses in Augusta, Kings Bay and in two metro Atlanta locations, Norcross and Fairburn. Brenau's 2011 ranking as one of the top 15-best higher education values in the Southeast by U.S. News & World Report marks the university's sixth consecutive year in that position for the magazine's America's Best Colleges guidebook. Brenau University also has been cited as one of the best colleges and universities to work for by The Chronicle of Higher Education and since 2004 has been named by Princeton Review as one of the best colleges in the Southeast.
###