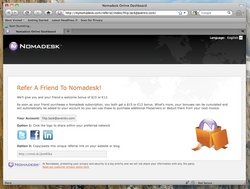 Nomadesk requires no complicated interface to learn, you can be up and running in minutes
New York, NY (Vocus) June 9, 2010
Nomadesk, developer of the easiest and most secure cloud storage and file sharing software, today rolled out a new referral program, which encourages friends of users to join Nomadesk. The Nomadesk user who refers and the friend who joins will each receive a $15 discount to apply to their subscription or to purchasing additional Team or Personal Fileservers. Nomadesk is an easy way to share, store, synchronize and backup files in the cloud and access them from anywhere, even from your Blackberry Smartphone or iPhone. Friends will be invited to test drive Nomadesk with a free 30-day trial, and when they purchase a $15/month Team Fileserver subscription or $50/year Personal Fileserver subscription they will receive a $15 incentive to apply to their next Nomadesk bill along with the person who invited them. And, you can continue to receive $15 bonuses for every friend who subscribes to Nomadesk, based on your referral. Invite friends through Facebook or email and begin experiencing the rewards.
"Nomadesk requires no complicated interface to learn, you can be up and running in minutes," said Nomadesk CEO Filip Tack. "Referral bonuses can be cumulated and will automatically be added to your account so you can use these to purchase additional Fileservers or deduct them from your next bill. We thought long and hard about what type of incentive would be best to offer, and since we already provide unlimited storage, it only made sense to build in cash discounts for future services."
Key Benefits

Share - Share access to fileservers with team members and collaborators, allow read-only access to members outside your team and use FileLink and FolderLink to send a link via email to share files and specific folders with anyone.
Synchronize- Nomadesk eliminates the risk of losing track of files across multiple computers by providing a fileserver to securely consolidate your valuable documents, back them up and synchronize them across multiple computers.
Backup - Everytime a file is changed or a new file is saved on your fileseserver it gets backed up to the cloud. Since your files are backed up to redundant servers in the cloud, Nomadesk provides instant disaster recovery.
Mobile Access - Access your fileserver from virtually anywhere and any computer with the online dashboard. Your files are even at your fingertips with smartphone access via a mobile dashboard.
"We have a very loyal customer base and are always looking for ways to sweeten the pot and reward their commitment to our service," added Filip Tack. "In addition to offering unlimited storage, our unlimited team sharing also sets us apart. For just $180 a year for a Nomadesk Team Fileserver or $50 for one year of a Personal Fileserver, you can get unlimited storage*. To use a competing product like Dropbox or Box.net you would have to invest approximately $700 per year to collaborate with a small team. Join Nomadesk now, and accumulate referral bonuses to continue to offset your costs of secure and easy file sharing and storage."
Why Nomadesk Over a Free Service
What differentiates Nomadesk from other cloud storage products is its ability to offer SMBs a Team Fileserver in the Cloud for $15/month with:

Unlimited, secure storage and backup, including 256-bit local encryption and Theftguard for shredding files remotely and locating lost mobile devices
Easy synchronization with multiple PCs and Macs
Collaboration on files online and offline with special FolderLink, FileLink and Widget features that function as a FTP replacements/enhancements
Remote and mobile file access from anywhere and on any mobile device (iPhone or Smartphone)
24/7/365 live chat technical support
No "per user charge"
Savings on IT maintenance costs - eliminate FTP server and VPN costs
Millions of people risk losing their unprotected, critical data every day. As the amount of unprotected data stored on multiple devices increases, it becomes harder to synchronize and easier to lose. Keeping data secure, synchronized, backed up and available can be expensive and require in-house IT expertise. Whether customers are online or offline, working at the office or on the road, Nomadesk allows business teams to secure, sync and share data with no limits or change in behavior. Each Nomadesk virtual file server acts just like a hard drive, storing important documents in one place with local and remote access from a PC, Mac, iPhone or Smartphone. Users simply drag and drop their docs into a virtual file server, and files are immediately encrypted, backed up and available for file sharing. For a flat monthly per server fee, SMB teams can now predict the budget for their collaborative workflow.
"Many of our customers are amazed that guests have free access to a team members' Nomadesk Fileserver, making it easy to predict and budget collaboration workflow," said Filip Tack. "Another key benefit is that you can have more than one account with Nomadesk to separate personal and business stuff, and you can have multiple fileservers on one account to collaborate with different teams. And, each fileserver has a unique email address, so team members can email docs right into the Nomadesk fileserver or drive."
About Nomadesk
With U.S. headquarters in New York and world headquarters in Ghent, Belgium, Nomadesk is a leading provider of cloud storage and file sharing software that enables users to access, share and safeguard files from any location, whether online or offline. Nomadesk is the easiest and most secure way to collaborate and backup critical files. Bringing the power of cloud computing to small businesses, Nomadesk alleviates the hassles and minimizes the high costs of traditional document management solutions, as well as online storage pay-per-user models. For only $15 per month per fileserver, an unlimited number of team members can access, share and save docs with unlimited* storage capacity. In addition, Theftguard™ provides advanced tracking and allows users to spot a stolen or misplaced device on Google Maps and remotely shred all important documents from their fileserver. Nomadesk software can be downloaded on http://www.nomadesk.com and easily installed with a 30-day free trial. The company received $4.25M Series A funding led by Gimv Venture Capital (http://www.gimv.com). To learn more about Nomadesk, visit http://www.nomadesk.com , become a Nomadesk fan or watch this 2-min video.

Subject to Fair Use Policy
Contact Info:
John Sperrazzo / Nomadesk PR / Eye-To-Eye Communications, Inc. / 858-565-9800 / john(at)eyetoeyepr(dot)com
###