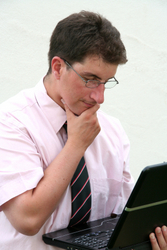 RFID is a transformative technology, but its adoption is occurring more slowly than anticipated. We're convinced that one of the main reasons is a lack of understanding. RFID Essentials e-learning gets people up to speed quickly and economically.
Silver Spring, MD (PRWEB) November 29, 2010
RFID Revolution, provider of RFID Essentials, a Web-based course for organizations exploring or adopting radio frequency identification technology (RFID), has introduced a free sample of the course's final exam. End users and consultants can test their knowledge of RFID fundamentals by answering 12 questions which are automatically scored. The scoring includes explanations of the correct answers. The sample exam is available on RFID Revolution's website and will soon be available on the websites of several of the company's partners, including RFID Journal and the Automotive Industry Action Group (AIAG).
RFID is an automatic identification and data capture (AIDC) technology with the potential to drive tremendous operational efficiencies and improve customer satisfaction in industry, commerce, and government. RFID Essentials is an interactive RFID e-learning experience which helps end-user organizations develop a vision for how to use RFID to save cost or boost revenue, jumpstart projects by mobilizing employee support, and minimize false starts through informed technology and vendor choices.
RFID Essentials delivers working knowledge to project team members and other stakeholders during the critical planning phase of a project. It covers four areas: (1) RFID technology (frequencies, active and passive tags, RTLS, middleware, and standards); (2) how to apply it in environments like the supply chain, asset tracking and access control; (3) how to identify and measure the return on investment (ROI); and (4) how to plan an effective pilot.
The self-paced course takes about eight hours to complete, the instructional equivalent of a two-day class. The final exam contains 42 questions, takes between 60 and 90 minutes to complete, and is served up to three times. Passing signifies an individual's readiness to participate in planning a pilot.
"Although adoption of RFID is growing, it's been at a slower pace than people anticipated five years ago," said Leslie Downey, Principal and Founder of RFID Revolution. "We're convinced that one of the main reasons is a lack of understanding of RFID in end-user and solution-provider organizations." RFID Revolution has interviewed dozens of end-user organizations in the early phases of adoption and has found that very few invest in RFID training for RFID project team members or other stakeholders. "In most cases, one or two people on the project team receive 'training' from an RFID product vendor, and that training is both narrow and biased," added Downey. "The rest of the team receives no training at all. This results in a low level of awareness of the many ways RFID can be used in their organization. It can also lead to unrealistic assumptions about what RFID can do, inability to convince management to invest in a project or roll-out, and choosing an RFID architecture or vendor that's inappropriate to the application."
Accessible from any Internet connection, RFID Essentials provides employees and trading partners with RFID foundational knowledge quickly and economically—in the project planning phase, when they most need it. It has been well received by diverse organizations including IBM, Michelin, CHEP, the Henry Ford Health Care System, and the U.S. Transportation Command. Developed by three top industry experts in collaboration with RFID Revolution, this interactive, sensory-rich RFID training includes more than 20 actual applications delivering ROI: in the supply chain, asset tracking, access control, and other environments. Instead of simply memorizing what an instructor states as fact, users constantly test their understanding in real-world, simulated applications. In forming their own conclusions, they learn and remember.
RFID Essentials is available by individual subscription and Enterprise License for organizations wanting to train groups of people.
For more information, contact RFID Revolution, at +1.301.589.9791, or visit our website at rfidrevolution.com.
About RFID Revolution
Based in the Washington, D.C. area, RFID Revolution, LLC provides radio frequency identification (RFID) education and market strategy consulting services. Its interactive, Web-based learning tool, RFID Essentials, provides professionals in end-user organizations and consultancies with comprehensive RFID working knowledge quickly and conveniently, so they can advance their organization's RFID initiatives. A woman-owned small business (WOSB), the company co-founded and administered the first RFID industry awards event in North America, the RFID Excellence in Business Awards, at RFID World 2007, and sponsored and administered the second Awards event, in 2008.
RFID Revolution will feature its RFID Essentials Web-based training in the AIAG booth at RFID in Defense 2010, November 30, in Arlington, Virginia.
###