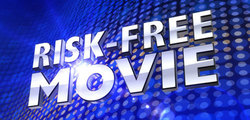 Albuquerque, NM (Vocus) September 15, 2010
REELZCHANNEL – TV About Movies® today announced the launch of its Risk-Free Movie promotion for Robin Hood, running September 21, 2010-October 24, 2010. Supported by a money-back guarantee, the REELZCHANNEL Risk-Free Movie gives movie fans the opportunity to watch a movie through Pay-Per-View (PPV) or Video On Demand (VOD) without risking money if they didn't like the movie.
REELZCHANNEL has always been committed to connecting fans to movies and the network is doing it again with the Risk-Free Movie offer. It's a movie fans can enjoy from the comfort of home with a big star on screen in Russell Crowe and a story that's long been celebrated in popular culture.
The Risk-Free Movie promotion for Robin Hood is supported with the help of NBC Universal, which provided extra content in the form of clips, interviews and behind-the-scenes footage that will be available to viewers through VOD packages.
To participate, movie fans simply need to watch Robin Hood through their cable or satellite provider between September 21, 2010 and October 24, 2010 and if they don't like the movie, they visit http://www.reelz.com/riskfree to start their money-back process. Reimbursement is fulfilled by completing the claim form received via email after registration and submitting it with proof of purchase from their cable or satellite bill during the promotional timeframe.
About REELZCHANNEL
REELZCHANNEL—TV About Movies® is the only cable and satellite network devoted to delivering entertaining and informative programming that is all about movies, including the celebrities, fashion, music and stories behind the stories. With shows featuring movie and entertainment experts including Leonard Maltin, Richard Roeper and Sam Rubin, fans get trusted insight into movies wherever they're playing, whether in theaters or at home.
REELZCHANNEL reaches more than 50 million homes on DIRECTV channel 238, Dish Network channel 299, Verizon FiOS TV channel 233 and cable systems nationwide. Find REELZCHANNEL in your area by entering your zip code at http://www.reelz.com/watch. In 2009, Nielsen recognized REELZCHANNEL as the eighth fastest growing network among all 95 cable networks measured in terms of number of homes. Owned by Hubbard Media Group, REELZCHANNEL is headquartered in Albuquerque, NM with an entertainment bureau in Los Angeles.
For more information, please contact the REELZCHANNEL Media Line
877- REELZTV (733-5988) / pr(at)reelz(dot)com
###