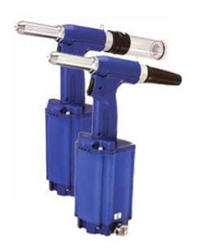 Continuously riveting with a blind rivet gun that doesn't contain shockless technology could potentially lead to injuries, workman's comp claims and missed work
Fenton, MO (Vocus) October 27, 2010
Repeatedly performing the same activity can oftentimes cause injury to workers. Consequently, riveting can be an extremely jarring activity if completed often and with a tool that isn't designed properly. As a result, S-B Industries offers a pneumatic rivet gun line from Lobster Tools that is ergonomic and absorbs the agitating shock created by standard rivet guns.
"Continuously riveting with a blind rivet gun that doesn't contain shockless technology could potentially lead to injuries, workman's comp claims and missed work," said Michael Mervis, Vice President of Sales and Marketing for S-B Industries. "Reducing the shock absorbed by the operator's hand using a pneumatic riveter designed by Lobster Tools has the potential to reduce these injuries, making it more comfortable for the user, and increase productivity."
The AR-2000 series of pneumatic rivet guns from S-B Industries includes models for small, medium and heavy duty applications. Features include:
•Lightweight, with excellent power-to-weight ratio and durability
•Soft-Set shockless technology that offers ergonomically correct action to minimize risk of CTDs (cumulative trauma disorders)
•Ultra jaws for longer life
•Noise-reducing muffler
•Sets up to 3/16" standard rivets in all materials
•Wear-resistant surfaces extend tool life
•Air hose can be connected to either side of tool for flexibility in use
•Long stroke
The AR-2000 series of pneumatic rivet guns can be purchased with or without integrated vacuum systems for mandrel retention and collection. The mandrel collection bottle design allows for easy disposal of spent mandrels.
"These pneumatic rivet guns not only feature an ergonomic design, but also include a quick rivet setting cycle and longer stroke for increased productivity. By making the tool easier to use, and less stressful on the operator's hand, these pneumatic rivet guns are great tools for anyone who rivets on a regular basis," said Mervis.
About S-B Group
Based in St. Louis, Missouri, S-B Group and S-B Industries, Inc. specializes in developing cost effective, innovative solutions for the component sourcing needs of users throughout North America and South America. For more information about S-B Group, visit their website at http://www.s-bgroup.com or call 1-800-543-1011.
# # #