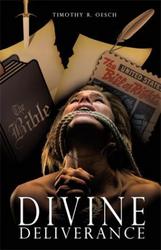 It is my hope that men, women, boys, and girls who read Divine Deliverance will gain confidence in the steadfast holiness of God and will find inspiration and empowerment through the knowledge and acceptance of truth
Longwood, FL (Vocus) July 17, 2010
Andela Tidmore is a Christian maiden who yearns for matrimony until the day an angel appears with an extraordinary proposition. An agnostic bachelor named Bill Stroggins has acquired custody of his sibling's two orphaned children, and Andela's assignment is to care for the children and evangelize the bachelor. She accepts. It is an enchanted kiss that initiates a journey through virtual kingdoms personifying the inner essences of heart and soul. Colorful characters divulge information regarding sex, marriage, gender, Scripture, sin, salvation, angels, Satan, free will, predestination, eternal security, government, religion, faith, holiness, love, and God. Follow their romantic adventure in author Timothy R. Oesch's new Xulon Press release, Divine Deliverance ($20.99, paperback, 978-1-60957-151-1; $32.99, hardcover, 978-1-60957-152-8), a book that unveils biblical truths regarding several of today's hot-button issues.
"It is my hope that men, women, boys, and girls who read Divine Deliverance will gain confidence in the steadfast holiness of God and will find inspiration and empowerment through the knowledge and acceptance of truth," the author says. "Further, I hope that many frustrating and encumbering lies of the devil will be divulged and dispelled, and that the falsehoods of progressive socialism will melt away before the teachings of America's founding fathers and Constitution."
Oesch, who was tutored in the cradle by his father, says that throughout his life he received teaching from a man who honored God's Word and sought to rightly divide biblical truth. It is his hope that this book will promote discussion on some of the toughest moral, spiritual, religious, and political questions facing men and women in modern society.
Xulon Press, a division of Salem Communications, is the world's largest Christian publisher, with more than 7,000 titles published to date. Retailers may order Divine Deliverance through Ingram Book Company and/or Spring Arbor Book Distributors. Divine Deliverance is available online through xulonpress.com/bookstore, amazon.com, and barnesandnoble.com.
###