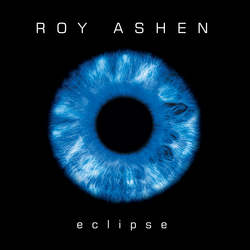 "Roy Ashen is a total package of Voice, Musicianship and Songwriting!" - CMJ ------------- "Roy Ashen's guitar playing is immaculate" - Brian May, QUEEN ------------- "Musically brilliant with profound lyrics" - Associated Content
Los Angeles, CA (PRWEB) October 12, 2010
Acclaimed indie artist Roy Ashen completes new album with Grammy-winning collaborators Andrew Scheps (Red Hot Chili Peppers, Metallica, Linkin Park) and Tim Palmer (U2, Bowie, Cure). Get to know one of modern rock's best-kept secrets...
Roy Ashen's latest album ECLIPSE is a dramatic and emotional modern rock album that echoes classic influences like David Bowie, The Cure and U2 while revealing a unique sound and musical vision that is all his own.
The 3-year project began with Roy writing more than 50 songs for an album that would ultimately feature the 12 best compositions from the bunch. "My goal was simple yet challenging," says Roy, "I wanted to create an album where every single song med a difference and was thematically connected to the rest of the album. Like most people, I was tired of hearing albums with one or two good songs and a lot of filler material. I think the fans deserve more!"
Once the songs were written, Roy returned to legendary Westlake studios in Hollywood, California. "Westlake is where everyone from Michael Jackson and Alanis Morrisette to Trent Reznor and U2 have completed projects. Steve Burdick and Al Machera, the owners of Westlake, have always been big supporters of my music and It's an incredible environment to bring my songs to life!"
Roy produced the album along with Andrew Scheps, best known for his Grammy-winning work on the Red Hot Chili Peppers "Stadium Arcadium" as well as albums by Metallica, Johnny Cash, Bjork and Linkin Park. Adding to the powerful creative team was Tim Palmer, who has mixed and produced albums ranging from Pearl Jam's breakthrough album "Ten"", to projects with U2, David Bowie, Cure, Robert Plant and more.
How does Roy describe his new album Eclipse?
"The album is based around the conflict of darkness and light that exists in each of us. From love and loss...to the paths we walk down and choices we make in search of fulfillment - - this is a journey that we each take," Roy explains, Lyrically speaking, it's pretty heavy stuff and it comes from real life. I guess you could say that ECLIPSE is ultimately about looking past the conflicts to find connection and meaning, even when you're going through hard times and you're not sure where your path leads...."
Now that ECLIPSE is available worldwide via iTunes and Amazon, what is next for Roy Ashen?
"My soul is completely wrapped up in this album," says Roy "and more than anything else I'm excited to share the music with fans, friends, writers, bloggers, film makers and anyone looking to enjoy my best music yet."
DOWNLOAD A COPY OF THE TITLE TRACK "ECLIPSE" FOR FREE AT:
http://RoyAshen.com/Eclipse
Press and media inquiries contact: RoyAshenMusic(at)gmail(dot)com
Praise for Roy Ashen:
"Roy's guitar playing is immaculate" - Brian May of Queen
"A total package of Voice, Musicianship and Songwriting" - CMJ
"David Bowie meets Lenny Kravitz" - Hollywood Reporter
"Musically brilliant with profound lyrics" - Associated Content
"Ashen has more hooks than a fishing trip with the Beatles...a near-perfect album"- Ventura Star
"Roy Ashen is a remarkably talented individual. He has the sound and vision to bust out of the pack of independent releases!" - John Easdale , Dramarama
"TOTALLY COOL, BURNING HOT, and (we kid you not) TRULY FRESH!" - Album Network
###