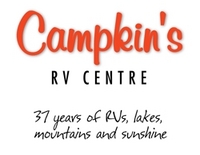 The RV industry has come off of one of the most turbulent years ever, but what a difference a year can make.
GTA, Ontario (PRWEB) February 23, 2010
With little to no snow on the ground and temperatures above average, the state of the economy is taking the back burner while warm weather is compelling RV consumers to come out in droves to browse and consider their options when purchasing a new Recreational Vehicle.
According to Brad Campkin, owner and sales manager at Campkin's RV Centre, an example of the increase in customer interest was the 2010 Toronto RV Show. "The Toronto RV Show proved to be one of the most successful RV shows in its history. Attendance was up over 56% from the previous year and sales were high above what was expected for this year based on previous trends." Brad asserts that weather has a major part to play in RV show attendance. "The higher the temperatures the more RV enthusiasts tend to frequent RV related events and surf the internet for RV dealers or related products." Brad attests lot traffic at Campkin's RV Centre is substantially higher than previous years and so is the traffic to his RV website.
Brad also contends that the lowest snowfalls on record have also contributed to the increase in traffic to his lot and his RV sales website. "There were 65% more visitors during this quarter than the same time last year. That dramatic increase in traffic has contributed to Campkin's RV witnessing a substantial increase in RV sales and related products seemingly despite the state of the economy."
Brad adds that due to the obvious upswing in consumer confidence he has re-stocked his sales yard with current 2010 RV models from each of his manufacturers. "The most popular models were sold out very early and unexpectedly this season. It's only smart business to re-stock for an expected very strong spring."
Campkin's RV Centre tracks sales using a seasonal trend averaged over three years. Campkin confesses "This year sales have blown the 3 year average out of the water and there is indication that this pattern is a sign of sustainable growth throughout the rest of the 2010 selling season."
Campkin's RV Centre, an RV Dealer in Ontario has been in business since 1973 and has witnessed all types of economic challenges in the four decades since Brad's father founded the company. "Campkin's RV Centre has experienced and endured gasoline shortages, high cost interest rates and tumultuous recessions so this recent economic storm was anticipated." Brad continues "What was surprising was the number of consumers using the web to research their purchases before visiting our centre."
Brad has been able to position his company website at the top of the major search engines with help from the SEO team at RVHotlineCanada.com. Brad has also been utilizing Google Adwords, Kijiji, Twitter, Facebook, his RV related blog and Youtube to generate consumer awareness of his RV Inventory which has contributed to the increase in lot traffic as well.
###