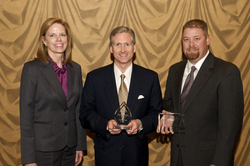 I am honored to be selected as the Houston WorkLife Roundtable CEO of the Year from among the many outstanding Chief Executive Officers that are also committed to employee work-life effectiveness in the Houston region
Dallas, Texas (Vocus) November 2, 2010
Ryan, the leading tax services firm in North America, with the largest transaction tax practice in the United States and Canada, today announced that Ryan CEO and Managing Principal, G. Brint Ryan, was named 2010 CEO of the Year by the Houston WorkLife Roundtable. This annual award recognizes the Chief Executive Officer (CEO) that demonstrates the highest level of commitment to establishing and maintaining innovative work environments that promote and establish work-life effectiveness and employee productivity.
The Houston WorkLife Roundtable chose Mr. Ryan for his role in pioneering an innovative workplace flexibility initiative that was piloted in the Firm's Houston, Texas office. This successful pilot validated Mr. Ryan's vision of achieving greater results and client satisfaction by empowering his employees to work where and when they are most efficient and effective. The outstanding results delivered by the employees of the Ryan Houston office resulted in the global implementation of the Firm's current flexible work environment, called myRyan.
Launched in August 2008, myRyan is a major culture shift designed to reach even higher levels of client service and employee satisfaction by changing the measurement of work performance from hours worked to results achieved. Since its inception, myRyan has delivered tremendous dividends for the Firm, its clients, and its employees. Ryan has dramatically improved employee retention and satisfaction, while demonstrating solid year-over-year revenue growth. Most importantly, Ryan employees have achieved the highest client satisfaction ratings in the history of the Firm, while enjoying the freedom to meet the competing demands of work and life.
"I am honored to be selected as the Houston WorkLife Roundtable CEO of the Year from among the many outstanding Chief Executive Officers that are also committed to employee work-life effectiveness in the Houston region," said Mr. Ryan. "In exchange for incredible flexibility and freedom comes the responsibility and accountability for producing results, and I am thankful that our employees have met the challenge and exceeded our expectations."
The Houston WorkLife Roundtable was founded to provide Houston work-life leaders, champions, and advocates an opportunity to benchmark with each other and to discuss issues, challenges, and barriers to providing employee programs that provide both happy, satisfied, and productive employees and a profitable organization.
About Ryan
Ryan is the leading tax services firm in North America, with the largest transaction tax practice in the United States and Canada. Headquartered in Dallas, Texas, the Firm provides a comprehensive range of state, local, federal, and international tax advisory and consulting services on a multi-jurisdictional basis, including audit defense, tax recovery, credits and incentives, tax process improvement and automation, tax appeals, and strategic planning. With a multi-disciplinary team of more than 875 professionals and associates, Ryan serves many of the world's most prominent Fortune 1000 companies.
# # #