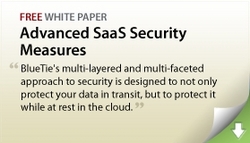 No single solution exists today to identify, prevent and mitigate these broad security issues
Rochester, N.Y. (Vocus) July 15, 2010
BlueTie, a leader in hosted email and collaboration solutions for businesses of all sizes, has released a whitepaper detailing the various security threats to SaaS vendors as well as BlueTie's granular, multi-faceted approach to combating system and network security risks. The whitepaper, "Advanced SaaS Security Measures," is the second in a series of free whitepapers from BlueTie, and is available online at bluetie.com.
"No single solution exists today to identify, prevent and mitigate these broad security issues," said Jeff Lambert, CTO, BlueTie, Inc. "The best method to ensure a safe and secure environment for customer data is our multi-faceted and comprehensive approach at all possible points of compromise."
The paper also discusses BlueTie's physical security measures, which Lambert considers equally important as network and system security policies. BlueTie's cloud is only operated out of facilities which have been audited for SAS70-Type II compliance and have passed natural disaster scenario risk assessments and flood plain screening evaluations, among other infrastructure security considerations.
BlueTie's internal security measures ensure controlled and monitored entry to secure facilities, with access limited to those individuals authorized to manage and maintain the infrastructure. Within these facilities, high-resolution, continuous surveillance security cameras monitor movement which is recorded for historical reference and review. Moreover, portions of BlueTie's data centers utilize state-of-the-art biometric scanning equipment for access to highly sensitive and restricted areas.
As more businesses entrust their sensitive information to cloud-based software providers, there is a necessity to enhance security protocols to protect customer data. BlueTie has evaluated security risks at the physical, network and system levels and employed robust firewalls, segmented internal infrastructure and employed secure encryption to defend against data breach, network intrusion or denial-of-service threats.
About BlueTie, Inc.
BlueTie is the leading provider of Software-as-a-Service collaboration services for businesses (SMBs) worldwide. BlueTie offers a cloud-based email, calendaring, and collaboration application suite, integrated with the Web's most useful services. BlueTie revolutionized the SaaS market in 1999 by introducing the first hosted suite of small & mid-sized business collaboration tools, and continues to be a market leader by delivering incredibly simple applications that are fast, inexpensive and reliable. For more information visit http://www.bluetie.com.
###