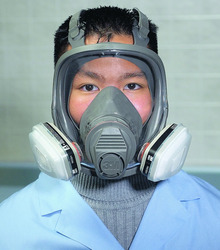 Vernon Hills, IL (Vocus) June 15, 2010
Environmental hazards such as airborne contaminants, industrial chemicals, arc flash, and flying debris can threaten the health and safety of employees working in diverse occupations. From laboratories to industry to field operations, workers need the proper gear to ensure their safety. In the midst of National Safety Month, Cole-Parmer highlights several popular products to safeguard employees.
Respirators protect wearers from inhaling harmful gases, fumes, and vapors. Used by the military, private industry, and the public, they reduce or eliminate exposure to noxious particles. 3M® 6000-Series Respirators from Cole-Parmer are air-purifying and designed for extended wear. Lightweight with adjustable straps, they combine with face pieces, cartridges, and filters to respond to the demands of specific environments.
Face shields offer a defensive screen from potentially infectious fluids, chemicals, and other hazardous materials. Sellstrom® DP4 Face Shield from Cole-Parmer contains an impact- and splash-resistant polycarbonate shield supported by a padded browguard. With curves that conform to facial contours, the shield provides a barrier to splashes, particles, and debris in laboratories, medicine, industrial facilities, and food manufacturing.
To protect hands from contaminants, Microflex® FreeFormTM SE Nitrile Gloves from Cole-Parmer are crafted of super-soft, powder-free 100% nitrile. These unique gloves feel like latex yet are synthetic, and offer a full range of movement. In safety apparel, Cryo-Apron® Aprons from Cole-Parmer are constructed of durable semiporous nylon, which remains resistant to most solvents and chemicals. A 100% waterproof liner prevents spilled fluid and cold equipment from coming in contact with the torso.
To find out more about these and other safety products, call 800-323-4340 or visit ColeParmer.com/7902.
Cole-Parmer has been a leading global source of laboratory and industrial fluid handling products, instrumentation, equipment, and supplies since 1955. Our product lines, including popular brand names such as Masterflex®, Oakton®, and more, are sold through company-owned customer channel outlets and a strong network of international dealers. We also feature an ISO-17025-accredited metrology lab for instrument calibration and repair. Cole-Parmer responds with excellence to customer needs, and offers application expertise and technical support. For more information, contact Cole-Parmer, 625 East Bunker Court, Vernon Hills, IL 60061. In the U.S., call 800-323-4340. International customers, call 847-549-7600. Visit us at http://www.coleparmer.com.
###