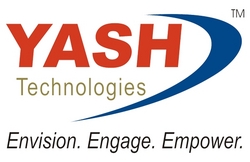 East Moline, IL (PRWEB) September 15, 2010
YASH Technologies, a leading technology services and outsourcing partner for global companies, announced today the strategic expansion of its sales presence into Michigan, Pennsylvania and New Jersey. YASH's additional sales presence in the midwest and northeast regions will be instrumental in expanding the customer footprint in these regional territories via a focused solutions and services portfolio offering, centered around SAP® solutions.
Midsized to larger global customers' demand for YASH's services continues to grow – specifically in support of the SAP ERP application, the SAP ERP Human Capital Management (SAP ERP HCM) solution, and application management services. YASH has also experienced demand in the small to midsize enterprise market. Earlier this year, YASH launched ManufacturingOne, a qualified SAP Business All-in-One partner solution for the high-tech manufacturing industry. And just recently, YASH launched BASIC, a series of SAP Business All-in-One partner solutions, which are slimmed down versions of its "One" solution series and can be implemented in less than 12 weeks.
"YASH continues to invest in building our sales and delivery infrastructure so we can deliver innovation and business value to our customers around the world," said Kevin Jansen, executive vice president, YASH. "As a provider of business solutions to the midmarket, our customers are benefiting from the flexibility, agility and customer-centric solutions we offer. Our expansion is a significant milestone in our overall growth strategy."
The new offices will complement YASH's established market presence in North America and its continued commitment to providing world-class solutions, professional services and flexible global delivery models. YASH continues to ramp up its support, implementation and development teams globally to accommodate growth opportunities.
For more information, please visit http://www.yash.com or email info@yash.com.
About YASH Technologies
YASH Technologies focuses on customer success. As a leading technology services and outsourcing partner for medium and large global customers, we leverage technology and our flexible delivery models to drive performance and business value throughout a customer's enterprise. YASH's comprehensive service approach incorporates a holistic view of our customers that extends beyond delivery. This approach integrates enterprise solutions and services, proprietary best practice offerings, strategic application and maintenance outsourcing, as well as consulting and integration services. YASH is a SEI CMMI (Level 3) and an ISO 9001:2000 certified company with U.S. and India headquarters and regional sales and development offices spread across three continents. YASH is also part of a select group of companies that are SAP -certified global providers of application management services.
SAP and all SAP logos are trademarks or registered trademarks of SAP AG in Germany and in several other countries.
All other product and service names mentioned are the trademarks of their respective companies.
###