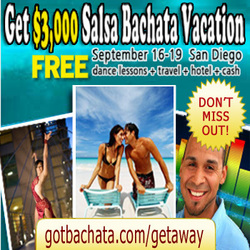 ...a chance to learn how to dance Salsa and Bachata while relaxing on vacation in San Diego.
San Diego, CA (PRWEB) June 22, 2010
Anyone interested in Latin dancing and travel? Got Bachata's summer 2010 promotion gives the winner a chance to learn how to dance Salsa and Bachata while relaxing on vacation in San Diego. The grand prize is a VIP Dance Package for two totaling $3,000 that includes travel, accommodation, spending money, car rental and VIP access to free dance workshops and dance shows at the 2010 San Diego Salsa Bachata Festival. This promotion is open to legal residents of the 48 continental United States, Hawaii and D.C., ages 18 years or older. Enter contest by July 31, 2010. More contests and giveaways are expected from Gotbachata.com over the next year.
"Salsa dancing in night clubs and festivals has been around for many years," says Got Bachata co-founder and developer Chris Thomas, "and now bachata music and dancing is growing in popularity."
This Salsa Bachata Vacation Giveaway is a great getaway for two. It is especially for those who love to dance salsa, want to learn bachata and would love to attend the 2010 San Diego Salsa Bachata Festival and for those who are just overworked and could use some fun.
The creation of Got Bachata was inspired by the bachata dance instruction of co-founder Carlos Cinta "El Unico Bachatero" and the desire to introduce bachata music, artists, dance steps, song lyrics, and events to a whole new audience.
To register and learn more about the 'Salsa Bachata Vacation' promotion, please visit http://www.gotbachata.com/getaway.
About San Diego Salsa Bachata Festival
The San Diego Salsa Festival, now in its fourth year, is being held September 16-19, 2010 at the Town and Country Resort hotel in San Diego hosted by Rivera Entertainment in association with Albert Torres Productions. This festival is the largest of its kind in San Diego, and brings together world-renowned performers, dance instructors from Boston to Puerto Rico, live music, DJ's, vendors and dance students. This year's festival schedule includes pool parties, bachata/salsa beginner boot camp classes, workshops for intermediate and advanced dancers, evening dance shows, and lots of social dancing with DJ's and live bands.
Got Bachata co-founder Carlos Cinta is a highly-sought after dance instructor whose smooth bachata style and entertaining teaching methods have made him popular with bachata dance enthusiasts around the world. Carlos has been teaching urban and Dominican style bachata, and his bachata dance videos on YouTube have inspired many to dance bachata. As his dance dvd series (Bachata Thrillogy) tag line says, his unique dance steps are "guaranteed to make a great first impression". Serena Cuevas director of Deseo Dance Company says, "The best thing guys can learn from Carlos how to be smooth and sexy during the entire dance, not just the beginning." Carlos is currently touring the United States teaching bachata dance workshops. For more information on Carlos Cinta, please visit http://www.CarlosCinta.com or call (619) 550-3527.