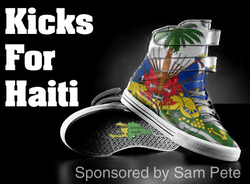 "Donate to 'Kicks For Haiti' and tell the story behind the KICKS!"
Los Angeles, CA (PRWEB) May 17, 2010
"Think about how many pair of shoes a person owns? Today if a person opens their closet they'll find several forgotten sneakers, a bundle of never worn shoes and the KEDS their Grandma sent them 4 years ago. No offense to Grandma's taste but quite frankly, they weren't liked enough to be worn nor for them to be remembered. This may have just intrigued 1,000's to want to clean their closet out but let's hold off on the garbage bag for one second and think about the value that those shoes still hold." Those shoes alone have enough energy to make a difference, there are 300 million kids in the world that do NOT have shoes.
Sam Pete, a Funk Rock artist represent by The Republik in Los Angeles, is the proud sponsor for Kicks For Haiti a charity outreach program for the people of Haiti. The Republik and Sam Pete will collect those forgotten shoes and send them directly to Haiti.
The envisioned concept from the creators of Kicks For Haiti is to transfer positive energy, making a difference by giving needed shoes and also giving away shoes that may have given the artist donating sheer "good luck" and to pass on that charm. There are a few artists and dancers who have given away the shoes that have helped change their lives and careers. Some of our donors include Marty Kedulka, a choreographer for Justin Timberlake and Jason Derulo, Ava Berstine, a well-known dancer for Britany Spears, Justin Timberlake and Fame (the movie), JD McElroy who danced for Chris Brown, Usher, and was on the iPod commercial, Super Dave who choreographed for Chris Brown and Justine Timberlake, and lastly Miles Brown who has danced for Chris Brown and Shakira.
Please visit http://www.youtube.com/sampetemusic to hear their moving stories about the shoes they have donated and don't be shy to post up videos of the stories behind the shoes donated.
Here's how to help:
1. Donate unused shoes. Any size, any color, any brand, new or old, it does not matter.
2. Get the word out: KICKS FOR HAITI needs help getting the message out to friends, artists, dancers, musicians, and anyone else who has a spare pair of shoes they could send to someone in need. Add a banner to your Facebook, website, or blog.
3. Volunteer: If you would like to volunteer to host a KICKS FOR HAITI event at your school, dance group, or company contact: kicks4haiti(at)republikworld(dot)com
Find Out More About Kicks For Haiti: http://www.youtube.com/sampetemusic
For Media Inquires: Please contact Amy L. Houck of 440 Artist Alignment at 310-461-3510 amy(at)440artistalignment(dot)com for more information.
# # #