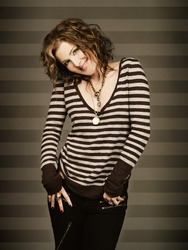 Nashville, Tenn. (Vocus) February 19, 2010
The captivating and infectious performer and multi-talented songstress Sarah Buxton is teaming up with CMT to become the first country artist to give fans an augmented reality experience. As the first ever augmented reality offering from a country act, Sarah Buxton and CMT are making history, allowing online viewers to engage with Sarah Buxton as active participants in an all new 3D experience.
Visit CMT.com to print a unique symbol that, when held up to a computer's webcam, will bring Sarah Buxton's "Outside My Window" music video to 3D virtual life. After printing the symbol online, follow the instructions on the website to take part in the full Sarah Buxton augmented reality experience. For those who want to sample augmented reality but don't have access to a webcam, a video will be posted at CMT.com for users to share in the experience.
All initially released physical and digital copies of Sarah Buxton's self-titled debut album will also contain another augmented reality marker that will offer users an entirely different experience. Fans can visit http://www.sarahbuxton.com/ar and hold this symbol up to their webcam starting February 23rd, the day the project releases, for the chance to become Sarah Buxton's virtual guitar player. Sarah Buxton is available for pre-order now through all online outlets.
About Augmented Reality: Augmented Reality (AR) is a technology that allows your physical real-world environment to merge with (or be augmented by) virtual computer-generated imagery. AR is more common than you might think. Common examples of AR are the yellow "first down" lines seen in television broadcasts of American football games, or a heads-up display that may appear on your car windshield. Now we can utilize the technology to enhance many things, and make it as simple to interact with as holding an image in front of a webcam. For any questions or technical issues, go to: http://www.sarahbuxton.com/ar
About Sarah Buxton: Two-time ACM New Female Vocalist nominee Sarah Buxton has been celebrated for her uniquely arresting vocals and song styling in addition to her creative prowess as an undeniable songwriting force, including her co-scribed power ballad "Stupid Boy," which won friend and fellow performer Keith Urban a Grammy for Best Male Country Vocal Performance. She's graced the stages of The Today Show and Jimmy Kimmel Live and has also appeared in the pages of People, Redbook and Country Weekly magazines. Buxton is currently on the road with Martina McBride and Trace Adkins opening the pair's "Shine All Night Tour" through May. While on tour she is promoting her upcoming self-titled debut album, releasing February 23rd. To learn more about Sarah Buxton, log on to: http://www.sarahbuxton.com or follow her on twitter at http://www.twitter.com/sarahbuxton.
About CMT:
CMT, a unit of Viacom's MTV Networks (NYSE: VIA and VIA.B), is the leading television and digital authority on country music and entertainment, reaching more than 90 million homes in the U.S. CMT and its website, CMT.com, offer an unparalleled mix of music, news, live concerts and series and is the top resource for country music on demand. The network's digital platforms include the 24-hour music channel, CMT Pure Country, CMT Mobile and CMT VOD.
About Lyric Street Records: Lyric Street Records is a part of the Disney Music Group. The Disney Music Group is the recorded music and music publishing arm of the Walt Disney Studios.
###