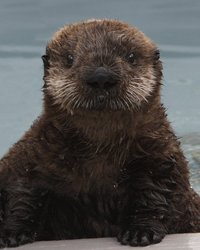 Monterey, CA (Vocus) September 14, 2010
On January 5, 2010 a young sea otter pup was seen searching for her mom, without success, along California's Central Coast. Fortunately, help was at hand. Rescuers responded and with no sign of mom, the 5-week-old pup was lifted carefully from the water and saved from certain death.
The tiny pup was quickly transferred to the Monterey Bay Aquarium -- the only rehabilitation center for southern sea otters in California.
Would the pup survive? Could she make it back to the wild? And, if not, what would be her fate?
To follow her story and receive regular updates, in words, photo and incredibly cute videos: sign up for the Aquarium's e-newsletter on the website Monterey Bay Aquarium, and enter the sweepstakes to win an otter-filled trip to the Aquarium.
Fortunately this pup had come to just the right place. With over 25 years experience of caring for sick and stranded sea otters, the Aquarium staff knew just what to do. The young otter, now named Kit, would stay at the Aquarium and learn everything it takes to be a successful sea otter.
In the wild, mom would be the teacher. Without a mom, how would Kit learn all the skills she'd need to survive and thrive, and maybe one day become a teacher for other orphaned pups?
Kit would need to go to college! At the Aquarium's in-house Otter U, she can take classes in grooming, foraging, and diving. (Not to mention all the socializing!)
In a six-part online series, Otter U: Kit Goes to College, you can follow Kit's progress -- in words, videos and photos -- from her early days to the present. Along the way, you'll meet a whole cast of characters, both human and otter, who play key roles in Kit's education
You'll also find videos of Kit and other cute sea otters on the Aquarium's YouTube Channel.
Watch videos of her otter antics from bottle feeding, to learning how to groom, and later tackling live food without getting pinched! There's never a dull day at Otter U.
There's also an opportunity to enter the Otter U sweepstakes, which includes overnight lodging on the Monterey Peninsula, two tickets to the Monterey Bay Aquarium, a behind-the-scenes viewing of a sea otter feeding, a two-hour sea otter tracking adventure on land, and a kayaking trip on Monterey Bay. Enter the Otter U sweepstakes!
###