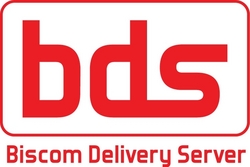 "Biscom Delivery Server for iManage delivers a seamless solution to the legal industry's leading secure file transfer and enterprise content management technologies."
Chelmsford, MA (PRWEB) June 22, 2010
Biscom, the most trusted name in secure file transfer technology, and Adaptive Solutions Inc., a premier provider of support and consulting services for law firms and Fortune 500 corporate legal departments, today announced availability of a jointly developed BDS for iManage, an integration of the Biscom Delivery Server (BDS) managed file transfer technology with Autonomy iManage. Designed with law firms and corporate legal departments in mind, BDS users can now directly access a FileSite library to upload documents for secure delivery via BDS. This will eliminate the extra step of moving documents stored in FileSite to a local drive before uploading to a BDS delivery. In addition, documents contained in incoming BDS deliveries can be imported directly into a FileSite folder. Recipients receive an e-mail notification of a secure delivery and must authenticate their identity to retrieve the files. All transactions are recorded for a full audit trail.
Today's corporate law departments and legal firms face increasingly stringent regulations regarding intellectual property protection and client privacy rights. Firms and departments are accelerating deployment of technology to protect data from unauthorized access. And in the case of a security breach, regulators and courts often require proof of established internal procedures and good faith execution.
"Law firms are under increasing pressure to comply with state and federal regulations mandating encryption of personally identifiable data and protected health information at-rest and in-transit," said Charlie Magliato, Biscom's Legal Practice Manager. "BDS for iManage marries the legal industry's leading secure file transfer and enterprise content management technologies to streamline the secure delivery of matter specific documents to a firm's business partners and outside counsel."
"Undoubtedly, the issues of protecting sensitive documents and keeping intellectual property secure are top concerns for our clients," said Chuck Davis, president of Adaptive Solutions. "Just as common, however, are those same clients' hesitance to invest large sums of money on a complicated security application which does not integrate with best of breed legal document management systems such as Autonomy iManage. That is why we have partnered with Biscom. BDS for iManage is the ideal fit for customers that want to minimize changes in user behavior, but achieve significantly better security."
Biscom Delivery Server is a managed file transfer application that allows users to send and receive large files, easily and securely, through a simple web interface. All transfers are encrypted and all transactions are logged for auditing and reporting. BDS also includes an Outlook plug in that allows Outlook users to send files directly from their e-mail without changing their behavior or impacting the mail system. BDS has been selected by a growing number of AMLAW 200 law firms to replace cumbersome FTP, better manage large e-mail attachments and comply with the growing base of data breach regulations.
About Adaptive Solutions, Inc
Founded in 1998, Adaptive Solutions, Inc. is a premier nation-wide provider of legal-specific systems integration and consulting services. ASI provides a unique set of skills and methodologies to complete projects on time, on budget, and with minimal disruption to firm operations. Adaptive Solutions' service offerings include: enterprise content management, server virtualization, strategic consulting, network integration, application installation and upgrades, custom application development, training and support services. Adaptive Solutions' products and services have been implemented in more than 130 law firms and corporate legal departments nationwide. Adaptive Solutions can be found on the web at http://www.adaptivesolutions.com. For more information please contact:
Chuck Davis
President
Adaptive Solutions, Inc.
Norristown, PA
610-489-9872
About Biscom, Inc.
Biscom Delivery Server is a division of Biscom with a focus on secure, managed file transfer solutions; BDS resolves the security, compliance, and file attachment problems of e-mail and FTP. Since 1986, Biscom has been enabling enterprise document delivery and workflow solutions for Fortune 1000 companies. BDS can be found on the web at http://www.biscomdeliveryserver.com. For more information please contact:
Charlie Magliato
Legal Practice Manager
Biscom, Inc.
Chelmsford, MA
978-367-3592
###