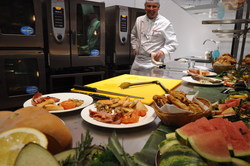 Even top chefs who have used a combi steamer for years often ask us for advice about different ways to use a combi
(PRWeb UK) November 17, 2010
At Hospitality 2011 Rational is focusing on helping caterers understand more about cooking with combi steamers. Not just caterers who have never used a combi, but also those who already have one but don't make the most of its potential.
The Rational stand is divided into two areas. The front of house demonstration zone is where visitors will be able to see Rational's top of the range combi, the SelfCooking Center, in action. They'll also be able to sample a wide variety of dishes, prepared by expert chefs. The rest of the stand is devoted to the Q&A Zone, where visitors can come and talk to a team of chefs, consultants and foodservice engineers about every aspect of combi cooking.
"Even top chefs who have used a combi steamer for years often ask us for advice about different ways to use a combi," says Vic Brown of Rational UK. "They are such versatile pieces of equipment, most owners don't' realise how much they can do. The combi cooking Q&A Zone is designed to help caterers understand the benefits the technology brings to the kitchen."
From 'can I cook chips in a combi steamer?' to 'can a combi duplicate the cooking characteristics of a tandoori oven?' whatever the question, Rational's team of experts will be able to answer it.
Energy Saving With A Rational SelfCooking Center: accessing the Carbon Trust loans
Rational will also have energy experts on hand to show visitors how they can finance the purchase of energy-saving SelfCooking Centers by taking advantage of interest-free loans from the Carbon Trust.
"We're able to help customers to access the Carbon Trust loans by proving how the purchase of a SelfCooking Center will cut energy consumption," explains Vic Brown.
For information and brochures, or to arrange to come to a free SelfCooking Center® 'TeamCooking Live' seminar, contact your dealer, freephone Rational UK on 0800 389 2944 or call +44 800 389 2944. For product information and contact details see http://www.rational-UK.com. For information about Club Rational, including recipes and combi cooking tips, visit http://www.club-rational.com/gb. Follow Rational UK on Twitter and Facebook.
Copy ends
________________________________________
Hospitality 2011 Rational Preview.doc – Nov-10
Press Enquiries:
Toni Turner or Alison Haynes at The Publicity Works: 01263 761000; Email: rational@publicityworks.biz
For more news about Rational visit the press office at http://www.publicityworks.biz
Vic Brown at Rational UK: 01582 480388
More information on Rational UK from http://www.rational-UK.com and Club Rational
Follow Rational on Facebook and Twitter
'SelfCooking Center' and 'TeamCooking Live' are registered trademarks of Rational.
Separations charge enquiries: offers can only be accepted by fax on 01263 761009 or by email to seps@publicityworks.biz.
All offers are considered. We will call you if the answer is 'yes'. Otherwise the answer is, regrettably, 'No'.
###