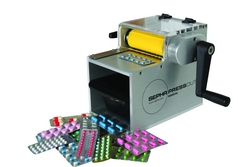 Traditionally the process of de-blistering tablets from their packaging, counting-out of doses and filling of patient packs has been a laborious task done by hand at pharmacies. Sepha's Press-Out machines automate the process, so it's not just a lot less sore on the thumbs it frees up time that can be spent out front helping customers
Belfast (Vocus) October 7, 2010
Innovative de-blistering machines developed by the global packaging machinery manufacturer Sepha Ltd are revolutionising the way drugs are administered by community and hospital pharmacies to millions of patients.
The machines, which are known as 'Press Outs' have been designed by Sepha to enable the easy removal of drugs from blister packs so they can then be re-blistered again into handy patient packs or monitored dosage systems by the dispensing pharmacy.
"Traditionally the process of de-blistering tablets from their packaging, counting-out of doses and filling of patient packs has been a laborious task done by hand at pharmacies. Sepha's Press-Out machines automate the process, so it's not just a lot less sore on the thumbs it frees up time that can be spent out front helping customers," explains Sepha Ltd Marketing Manager, Paul Kelly.
There are a choice of Press-Out machines, ranging from manual to semi-automatic and automatic, that can handle various batch sizes and even the most delicate tablets and capsules. For example blisterpacks can be manually fed through Press Out Manual/Manual Wide on a set of rollers by a turning handle. The tablets or capsules are simultaneously removed from the blister pack and separated from the waste packaging. It can take up to 20 packs per minute.
The Press-Out Manual is suitable for in-line blister packs only, while the Press Out Manual Wide can also cope with a diagonal/offset layout. The single set of tooling is fully adjustable and training for use takes less than 15 minutes.
Alternatively single blister packs can be automatically fed through Press Out Semi Automatic and the machine uses the same patented deblistering mechanism as the manual model but is driven by an electric motor providing automated feed allowing a deblistering rate of up to 40 blisters per minute with tooling change over taking less than 5 minutes.
Press-Outs will be on show at Pharmacy UK at the NEC, Birmingham on 10-11 October at Sepha stand No. D100 where visitors will also have the chance to enter and win a competition for a new wireless reading device, the Amazon Kindle.
Sepha has been at the forefront of innovation since pioneering deblistering for the pharmaceutical industry in 1980, and today Sepha offers the most complete range of deblistering machines, covering all pharmaceutical blister applications, that is available worldwide.
###