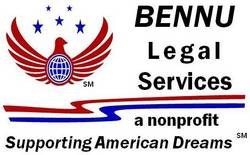 The Economic Impact of Immigrants
Lake Bluff, IL (PRWEB) September 8, 2010
As a recently-formed nonprofit organization located near Chicago in Lake County, Illinois, BENNU Legal Services has quickly established its presence in a community densely populated by poor and underserved people. With a mission that is focused on addressing the legal needs of immigrants in this heavily Latino area, BENNU has already helped many of victims of violence and other serious crimes. Victims like Anne, a client who had suffered years of abuse, until BENNU helped her apply for a visa that helped her obtain legal residency and a rare chance for freedom that meant being able to work legally, to earn enough to support her children, and to establish independence.
So successful has BENNU's results-oriented approach been that it has recently drawn the attention of several high-profile community leaders, nonprofits, and a leading national service organization. One important form of recognition came as a result of BENNU's efforts to build ties to the legal community when Lake County Sheriff, Mark Curran, and Lake County Bar Association President, Elizabeth Rochford, both joined in a roundtable discussion on "The Economic Impact of Immigrants" sponsored by BENNU. Another form of recognition came from two leading nonprofit organizations that also serve the immigrant populations in Lake County, including the Coalition for the Homeless and A Safe Place, both of which have asked BENNU to conduct trainings on immigrant-related issues. In yet another form of recognition for its work, BENNU recently was awarded through Youth Conservation Corps and the Corporation for National and Community Service, three AmeriCorps VISTA (Volunteers in Service to America) Interns for the summer.
"BENNU is thrilled to be recognized by members of our community for the important work that we're doing to benefit the immigrant population in Lake County," said BENNU Executive Director Andrew Sagartz, JD, MBA. "There is tremendous need here…we estimate that, in the Latino community of Lake County alone, there are about 10,000 cases of domestic violence each year. Because of fear, women and children who are undocumented are often silent victims. Undocumented or not, no one deserves to suffer abuse."
Like the population it serves, BENNU's own story is an underdog tale itself. Founded in November 2008, its primary mission is to help solve the problem of illegal immigration by legalizing and integrating immigrants under the current system. Because of the prevalence of U-visa and similar cases, domestic violence and abuse are a frequent issue for this immigrant population. Despite a recession that has spelled doom for many other nonprofit organizations in the Chicago metropolitan area, BENNU is growing, thanks to the support of the community in and around Lake County.
Said Eva Javier, Operations Manager, at BENNU Legal Services, "We believe that one of the secrets to BENNU's success is our empathetic approach. Each of our five regular staff members is an immigrant and /or is married to an immigrant, and, in total, speak seven languages." Javier continued, "Also, understanding that immigrants often have limited or no transportation options, BENNU's legal workers travel to meet clients wherever they are. We go where people need us."
About BENNU Legal Services
BENNU Legal Services, an innovative nonprofit Supporting American Dreams, provides low-cost legal services and education to help families and individuals new to the United States to legalize and integrate. Through our services, BENNU also supports small business entrepreneurs and helps address important issues such as domestic violence. To meet clients' needs, we offer services on a sliding-fee-scale, and sometimes pro-bono, basis. Our multicultural staff meets clients at locations convenient to them. BENNU also conducts vocational trainings to increase employability, helping individuals successfully rise to new beginnings like our symbol, the Egyptian phoenix or bennu bird. To learn more, visit http://www.BENNUlegal.org.
###