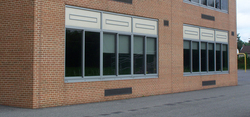 Sheffield, MA (Vocus) February 6, 2010
When officials at the Dutch Broadway School in Elmont, NY considered updating their old windows, they wanted a glazing material that would give them long term resistance against vandalism and the effects of outdoor weathering. They also opted for maintaining an open environment without the enclosed feel of metal grill-work, often used to protect window systems.
The solution came from Architectural Window Manufacturing of Rutherford, NJ. The company upgraded the school's old windows with a new long-life polycarbonate-based glazing material designated Makrolon® MAK 15.
Sheffield Plastics, a Bayer Material Science LLC company, produces the new clear sheet. A recent technological advance allows the manufacturer to back the product with a warranty against the effects of weathering for 15 years, up to twice that of prior coated polycarbonate sheet materials. Warranted against breakage as well, Makrolon MAK 15 also provides unobstructed views by eliminating the need for protective secondary metal grilles.
Makrolon MAK 15 sheet is available in standard glazing sizes and thicknesses. Following its recent introduction, it has been used as a direct replacement for glass, and also as over-glazing on existing window systems both for damage resistance and added energy efficiency.
Bayer MaterialScience LLC is one of the leading producers of polymers and high-performance plastics in North America and is part of the global Bayer MaterialScience business with nearly 15,100 employees at 30 sites around the world and 2008 sales of 9.7 billion euros. Business activities are focused on the manufacture of high-tech polymer materials and the development of innovative solutions for products used in many areas of daily life. The main segments served are the automotive, electrical and electronics, construction, medical, and sports and leisure industries.
Contact:
Cindy Kahlstrom, Phone: 413-528-7812
E-mail: cindy(dot)kahlstrom(at)bayerbms(dot)com
For more information about Bayer MaterialScience, call 1-800-628-5084, info(at)sheffieldplastics(dot)com or visit http://www.sheffieldplastics.com
This news release contains forward-looking statements based on current assumptions and forecasts made by Bayer Group management. Various known and unknown risks, uncertainties and other factors could lead to material differences between the actual future results, financial situation, development or performance of the company and the estimates given here. These factors include those discussed in our annual and interim reports filed with the Frankfurt Stock Exchange. The company assumes no liability whatsoever to update these forward-looking statements or to conform them to future events or developments
###