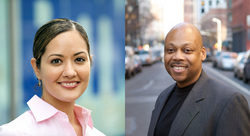 I've had so many doors opened for me since I've been back in school.
New York, NY (Vocus) May 4, 2010
Borough of Manhattan Community College (BMCC) alumna Lori Colón, and student Sheldon Porter, received Coca-Cola Scholarships facilitated by Phi Theta Kappa (PTK), a national honor society that recognizes the achievements of students at 2-year colleges.
As members of PTK, Colón and Porter received information about the 2010 Coca-Cola Scholarships, and decided to apply. They are both Liberal Arts majors who returned to college after more than 10 years in the working world.
Impressed with their writings, BMCC English professors Zhanna Yablokova and Joyce Zonana, along with Senior Vice President Sadie Bragg and President Antonio Pérez, nominated Colón and Porter for the Coca-Cola All-State Community College Academic Team.
"They represented the diversity of the college," says Yablokova. "Their submission essays were about their non-school obligations, academic achievements and honors."
Colón—who graduated from BMCC in December and currently attends Columbia University, and Porter—were honored at a special PTK luncheon in Albany this spring, where they received a scholarship, an award, and first team placement in the Coca-Cola All-State Academic Team, proving their personal essays truly struck a chord with the judges.
Colón's Coca-Cola/PTK essay focused on her love of Salsa dancing, and how it ties into her community service.
Colón has danced her whole life. When friends told her about the Global Leadership and Achievement Foundation, an organization dedicated to combating social ills faced by the inner-city youth of Jersey City, NJ, she wanted to help.
She started fundraising for the organization and her efforts provided school supplies and mentoring opportunities, "to help children find role models and develop the self-esteem necessary to protect them from forces that threaten their futures."
Colón, who had a 4.0 average while at BMCC, is currently majoring in psychology at Columbia University. "On the surface, it may seem so different from dance," she says, "but psychologists interpret and help their clients express emotions in healthy and positive ways."
Sheldon Porter, a part-time BMCC student, is also a professional artist. A stand-out student, his artwork has been featured on campus and on BMCC's Web site. He graduated high school in the 80s, and 25years later, decided to give college a try.
"I was very hesitant to be an older student," he admits, which was the focus of his Scholarship essay. "But everyone at BMCC has been wonderful and made me feel at home. I've had so many doors opened for me since I've been back in school."
Borough of Manhattan Community College (BMCC) enrolls over 22,000 degree-seeking and 10,000 Continuing Education students a year. The largest community college in The City University of New York (CUNY) system, BMCC has students from more than 155 countries, and awards associates degrees in over 27 fields.
Contact: Rachel Sokol
212-220-8501
###