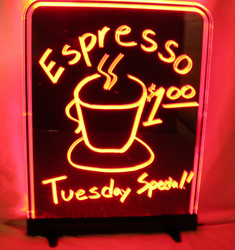 Rowland Heights, CA (Vocus) June 25, 2010
AffordableLED.com is continuing its tradition of helping small and big businesses alike to make its mark in the business, leading LED open signs wholesaler AffordableLED.com is giving huge price reductions on selected LED signs products. Illuminated write-on/wipe off LED signs, starting at a low price of $159, are set to display one color which can be wiped off with any ammonia free glass cleaner, enabling business owners to write messages and change them as often as necessary. At 10% off, simply type the in promo code "illuminated-10off" to take advantage of this promotion. All illuminated LED signs come with a special illuminated marker, has low energy consumption, and are definitely superior to neon lighting.
AffordableLED.com's best-selling programmable business hour signs are now available at 20% off its original price. Featuring the latest in LED technology, business hour signs from AffordableLED.com boast of programming multiple messages with over ten animations that will entertain customers and potential clients. These are great for advertising specials and promotions to target consumers; programmable business hour signs have elegant acrylic exterior casings that will attract the attention of any passerby or customer. Simply type in promo code "BUSHR-20OFF" upon checking out and receive the benefits of this great sale.
For as low as $87.00, purchase programmable message boards that can store as much as 700 words; business owners can use to inform customers of special events, discounts, sales, or any relevant information clients should know. They are easy to program with a remote control or PC, programmable message boards can store up to 99 files at a time and are visible to a maximum of 150 feet. Turn heads and generate more foot traffic with the programmable message boards, put in promo code "15P-OFF" upon checkout to get 15% off on these products.
Also check out AffordableLED.com's #L7006 – an Open LED Sign with multiple animation modes with 100,000 hours of operation. From its original price of $79.00, the #L7006 is now down to $69.00 – a price easily afforded by businesses and small establishments. New products are also being launched at the leading authority in LED open signs. Purchase exciting solar products and restaurant décor products such as LED solar string lights, LED garlands, sound sensor bottle tops, tealights, and wax candles.
AffordableLED.com's commitment to bring the latest in LED signs technology has once again been proven with the latest innovations in the world of LED signs and open signs. With all LED signs products coming with a one year warranty, clients are assured of the manufacturing quality AffordableLED.com undertakes to serve the industry. Visit AffordableLED.com's official blog or sign up with the company's newsletter to be updated of the latest promotions only from AffordableLED.com.
About AffordableLED.com
Based in Southern California, AffordableLED.com is the leading manufacturer of indoor and outdoor LED signs. All LED signs are high quality and produced with cutting edge technology. LED signs can be customized to suit the needs of the clients. All LED signs sold have a one year warranty and a lower-than-market price guarantee. Press release produced by Cybertegic.com - an Internet marketing services agency that specializes in search engine optimized press release marketing (SEO marketing).
###