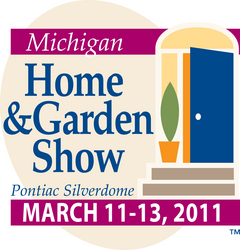 After a five year hiatus, Michigan Home & Garden Show is back at the Silverdome
Pontiac, MI (Vocus) September 22, 2010
ShowSpan, Inc. announces the Michigan Home & Garden Show 2011 return to the Silverdome in Pontiac, Mich.
"After a five year hiatus, Michigan Home & Garden Show is back at the Silverdome," said Mike Wilbraham, show producer for ShowSpan, Inc. of Grand Rapids. "The new owners have welcomed us back after renovating and reopening the Silverdome."
The 2011 show dates are March 11 – 13. Exhibit displays will be filled with home and garden products and services for new homes, remodeling and maintenance. All the major home product categories are available from the basics of heating, cooling, kitchens, baths, windows and doors to room additions, siding, closets, log homes, vacuums, appliances, fixtures, furnishings, landscaping and decorative accessories.
Spectacular gardens and landscapes with blooming annuals and perennials, waterfalls, reflecting ponds, fountains, brick walkways and patios will be created especially for the show.
In addition, seminars on building, remodeling, do-it-yourself projects and gardening and ideas, tips and advice from experts on home renovations, maintenance and landscaping will be available.
"Applications for exhibit space are now being accepting," said Wilbraham. "We are lining up our speakers and guest experts and will have it ready for homeowners in the next few months."
ShowSpan has 66 years of experience producing consumers shows including Grand Rapid's West Michigan Home & Garden Show, March 3 – 6, 2011 and Lansing Home & Garden Show, March 17 – 20, 2011.
Pontiac Silverdome is located at 1200 Featherstone Road north of M-59 and west of Opdyke Road in Pontiac. Social networkers can follow the show on Twitter.com/MIHomeShow or become a fan on Facebook at SilverdomeHomeShow.com/Facebook. For more information, call (800) 328-6550 or visit http://www.SilverdomeHomeShow.com.
# # #