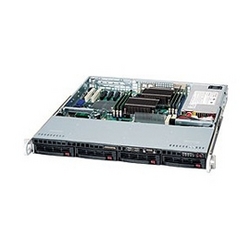 the biggest thing about having your own dedicated server is that you can do a lot of tweaks that you could never do on a shared hosting plan.
Clifton, NJ (PRWEB) September 24, 2010
For many small business owners, there comes a time when a low-cost shared hosting account can no longer sustain their online presence. Such was the case with Chris Azzari and his site, popthatzit.com. The site hit it big time last fall, when it was featured on the Tyra Banks Show. "When we first started out, we used the shared hosting account that was offered with the social networking script that runs the site. At that point I really had no clue about servers, apache, php, mysql, backups and all the fun things that come along with running a website. This is where support came in... well actually this is where support really did not come in to play because there was a lack of support for my crappy little $9.99 a month hosting plan," says owner/operator Chris.
The site's content went viral and Chris learned how traffic can crash a server. "It was at that point that I knew I needed something more substantial behind my website," says Chris. "PopThatZit.com was going to be featured on the Tyra Banks show and I knew that would bring in the traffic, big time. I needed a dedicated server and after sifting through available providers, decided to move my sites over to DedicatedNOW, a managed dedicated server provider."
Azzari continues, "the biggest thing about having your own dedicated server is that you can do a lot of tweaks that you could never do on a shared hosting plan. I run Wordpress on the site and decided to run w3 supercache after high recommendations from some friends. Getting it to work right was beyond my scope of expertise. I needed to install memcached and I wasn't about to mess that up. A simple email to the server support team and they had me up and running. The site was lighting fast and ready for traffic."
"Just knowing that the site that you have spent countless hours creating and promoting is in good hands is worth its wait in gold. Remember, your website is your business, so you need to protect that business, and it starts with where it is hosted."
About PopThatZit.com
PopThatZit.com is the original website by zit poppers, for zit poppers. The site's outrageous material gained a cult following on day 1. With nearly 2000 videos of every kind of pimple, boil and pustule imaginable, Chris Azzari's creation was featured on the Tyra Banks show in 2009. For more information, visit PopThatZit.com
About DedicatedNOW.com
DedicatedNOW, founded in 1997, provides managed and unmanaged dedicated servers to customers in nearly 100 countries. Customers rely on DedicatedNOW for reliable, secure and value-rich services such as dedicated servers, managed hosting, complex hosting, CDN, reseller and colocation. DedicatedNOW's servers are located in a state-of-the-art data center in Clifton, New Jersey. The Clifton, NJ facility houses nearly 5,000 servers in a secured environment, right next door to the Company's corporate headquarters and network operations center. For more information about DedicatedNOW, visit DedicatedNOW.com
# # #