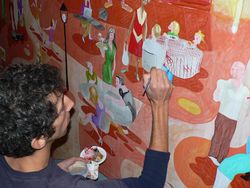 I use many colors, but I give much importance to the lines and how they fit together to create a puzzle...a unit.
Charlottesville, VA (Vocus) September 3, 2010
While well-known in the art circles in and around Madrid, Spain, Javier "Chicho" Lorenzois making his mark in the United States, first in Brooklyn, New York, currently in Charlottesville, Virginia, and September 1–December 31, 2010 in southern California at Bistango Restaurant, Irvine. The artists' reception to introduce his exhibit will be held at Bistango on September 11, 2010 from 3:00–5:00 p.m. For more information and to download an invitation, contact Studio Gallery.
A self-taught artist, Chicho began drawing with markers as a small child. He still outlines his frescoes with marker first before applying the depth of color with paint. "I use many colors, but I give much importance to the lines and how they fit together to create a puzzle...a unit."
Chicho's work has been influenced by many artists and art forms, even dating back to ancient times: Egyptian, Greek, Persian, and Aztec. "I also love old mosaics and the use of gold in the early religious paintings and manuscripts."
His more modern influences include Gaugin in Tres Mujeres en Agua and Van Gogh. "One for transmitting such an exotic atmosphere, and the other for his freedom with the brush stroke; they taught me to release myself on the canvas."
You see evidence of Matisse's influence in Chica con Gato, but "the shapes of Picasso, the patterns of Klimt, the expression of feelings from Frida Kahlo, Dali's fantasy, a sense of balance from Calder, and my father, my best teacher, with his passion for art" are seen and felt in each of Chicho's paintings.
His work appeals to the many styles and tastes of collectors: from the vibrant pinks and turquoises of the Caribbean, to the bold, sexy reds and oranges of Spanish Flamenco, to the spirit of the Latin American culture.
Javier "Chicho" Lorenzo was born in a small town outside of Madrid, Spain. The color, passion, and vibrant spirit of the Spanish culture and its people are evident in his work.
Bold. Passionate. Vibrant. Sexy. Complex.
Experience the Art of Chicho Lorenzo.
Chicho currently lives in Charlottesville, Virginia. When he is not painting he spends time with his two children, Lucas and Yemaya, and performs with a Flamenco music and dance group, Toma Que Toma.
###