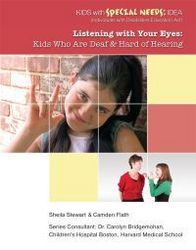 Kids with Special Needs provides a unique forum for demystifying a wide variety of childhood medical and developmental disabilities
Philadelphia, PA (Vocus) June 9, 2010
With more than 4.5 million American kids categorized as having "special needs", Mason Crest Publishers announces the Kids with Special Needs series of educational books for school children between grades three and five. This series opens up the world of special needs children for young readers. Fictional stories, written from the perspective of the child with a disability, allow readers to identify with someone who might otherwise appear "different" or "strange". In addition, nonfiction sections provide facts about causes and treatment. These books promote understanding and compassion, allowing readers to see that children with special needs are far more like them than they are different.
"Special needs" is an umbrella term for an array of challenges with which children are faced, all covered by the Individuals with Disabilities Education Act (IDEA). These disabilities include autism, hyperactivity disorder, speech impediments, learning disabilities and much more. IDEA ensures that children who are eligible receive the educational services they require. With so many children with special needs in the educational system, and many of them mainstreamed into regular classrooms, it's common for other children to have questions about them. This series of books is aimed to help educators open up a dialog about the disabilities, and more importantly the abilities, of these special kids.
The senior editorial consultant for the Kids with Special Needs series, Dr. Carolyn Bridgemohan, is board certified in developmental behavioral pediatrics and practices at the Developmental Medicine Center at Children's Hospital Boston. She is the director of the Autism Care Program and assistant professor at Harvard Medical School. Her specialty areas are autism and other pervasive developmental disorders, developmental and learning problems, and developmental and behavioral pediatrics.
"Kids with Special Needs provides a unique forum for demystifying a wide variety of childhood medical and developmental disabilities," said Dr. Bridgemohan. "These stories are captivating, straightforward and honest depictions of children with common chronic conditions such as hearing loss, intellectual disability, physical differences, and speech difficulties. Elementary school age readers will immediately relate to the challenges and triumphs experienced by the characters and will find the answers to many of their questions in the well-organized factual material that accompanies each story."
More children with disabilities and chronic illnesses are living longer, more functional lives thanks to recent advances in pediatric medical techniques. Students are therefore exposed at a greater rate to peers with special needs in their classrooms, through extracurricular activities, and in the community.
"Young people tend to have unanswered questions about children with disabilities, many times because it's not easy to talk about these complex issues in a comfortable manner," said Louis Cohen, Principal at Mason Crest Publishers. "Through fictional stories written from the perspective of the child, this series will encourage further, more comfortable conversation about these issues."
Mason Crest Publishers produced an extremely successful series of books on this topic in 2004 geared toward older students. The series, Youth with Special Needs, received positive reviews from well-respected educational book reviewers such as School Library Journal, VOYA and Library Media Connection.
"Young people who struggle with learning disabilities will find information, guidance, and reassurance in this fact-filled self-help book."

"This series offers clarification and instruction on confusing social issues."

"The story is well-crafted, the characters engaging, and the information accurate and comprehensive. I recommend these books heartily to those who seek to promote tolerance and understanding in teenagers . . . this book should be in every high school library and every guidance office. I'd go so far as to say it should be required reading for all teenagers!"
-VOYA
The titles in the Kids with Special Needs series are:

Seeing with Your Fingers: Kids with Blindness and Visual Impairment
Listening with Your Eyes: Kids Who Are Deaf and Hard of Hearing
My Name Is Not Slow: Kids with Intellectual Disabilities
Sick All the Time: Kids with Chronic Illness
Something's Wrong! Kids with Emotional Disturbance
Speed Racer: Kids with Attention-Deficit/Hyperactivity Disorder
Finding My Voice: Kids with Speech Impairment
I Can Do It! Kids with Physical Challenges
The Hidden Child: Kids with Autism
What's Wrong with My Brain? Kids with Brain Injury
Why Can't I Learn Like Everyone Else: Kids with Learning Disabilities
For more information on the series and Mason Crest Publishers, call 866-MCP-BOOK or visit http://www.Masoncrest.com.
About Mason Crest Publishers:
Mason Crest evolved in 2002 from some of the key people responsible for making Chelsea House Publishers one of the leading young adult and reference school and library publishers. Mason Crest is dedicated to providing the most unique upper elementary and young adult quality books available within the school and library marketplace. With each series Mason Crest obtains the most proficient & knowledgeable editors, advisors, senior consultants, major institutions, authors, agencies, and specialized "think tanks" to ensure the books meet the highest standards of excellence. Mason Crest is currently offering over 1,500 titles that reflect the company's dedication to quality. A complete list can be found online at http://www.masoncrest.com.
###