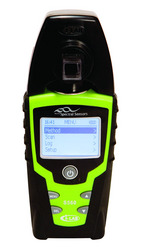 Vernon Hills, IL (Vocus) April 22, 2010
A new series of i-LAB handheld analyzing spectrometers from Cole-Parmer offers the convenience of portability. Weighing only 7.4 ounces each, the compact battery-operated instrument enables users to go directly to the sample source. For those who test water quality, monitor agriculture, measure dyes and colorants, perform quality assurance and control, collect rapid data, conduct environmental research, complete chemical analysis in academia, or more, this user-friendly instrument makes their tasks a bit easier.
The i-LAB conducts absorbance and transmission measurements. A full visible spectrum of a liquid sample is captured and stored within the device for later uploading into a laptop or other computer. Up to 500 spectra can be further processed with the i-LAB Spectrum Software, which allows users to create custom measurement methods to download data into the i-LAB. The "Live Scan" feature provides a full-screen display of real-time sample data.
The i-LAB is also available preprogrammed for specific applications and offered in packages. For example, the Academic Package arrives ready for use in classrooms, labs, or field research. A Food & Beverage Package is available for common process and quality control applications. To learn more about the i-LAB Spectrometers from Cole-Parmer, call 800-323-4340 or visit ColeParmer.com/7797
Cole-Parmer has been a leading global source of laboratory and industrial fluid handling products, instrumentation, equipment, and supplies since 1955. Our product lines, including popular brand names such as Masterflex®, Oakton®, and more, are sold through company-owned customer channel outlets and a strong network of international dealers. We also feature an ISO-17025-accredited metrology lab for instrument calibration and repair. Cole-Parmer responds with excellence to customer needs, and offers application expertise and technical support. For more information, contact Cole-Parmer, 625 East Bunker Court, Vernon Hills, IL 60061. In the U.S., call 800-323-4340. International customers, call 847-549-7600. Visit us at coleparmer.com.
###